University says applications 'recovering' from decline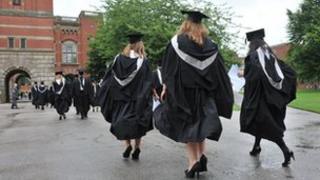 University application numbers could be making a sharp recovery - according to figures from a university.
Anglia Ruskin has released figures that suggest the overall application numbers across the UK are now only 2% below the point where they were last year.
Official figures from the Ucas admission service in November showed a 12.5% fall, following the introduction of increased tuition fees.
But Anglia Ruskin's figures would mean a catch-up surge in applications.
The university says that its own applications have increased by 17.6%, compared with figures at the same stage last year, with the increase driven by vocational subjects.
Reversing a trend?
But it has also revealed a weekly tracking figure for applications across UK universities.
This claims that the level of applications for full-time undergraduate courses is now only 1.98% below the same point last year - representing a big recovery from the 12.5% dip reported in the autumn.
This latest figure is not broken down into applications from the UK, elsewhere in the EU or overseas students - so it remains unclear what has changed the trend.
It is also a figure for course applications - rather than individual applicants - but the decline in applicants reported in November, 12.9%, was not dissimilar to the 12.5% fall in applications.
If this is a sign of an upturn, it is against many of the expectations of a slump in applications in the wake of concerns about the increase in tuition fees of up to £9,000 a year from 2012.
These national figures have not been confirmed by Ucas, which is set to publish its own update on applicants and applications on Wednesday.
The Ucas figures, which include a more detailed breakdown of application trends, will also not be as up to date as those from Anglia Ruskin.
The Ucas figures will show the picture in applicants and applications up to 19 December - while the Anglia Ruskin figure includes applications up to 1 January.
Universities are still open for applications - with the deadline set for 15 January. The first official figures are expected at the end of January.
Pat Watson, head of admissions at Anglia Ruskin, welcomed the increase in applications.
"Like all universities, we were concerned that government changes to the funding of higher education, which have resulted in higher tuition fees, would reduce the number of applications for our courses."