Ofqual inquiry orders exam change
By Sean Coughlan
BBC News education correspondent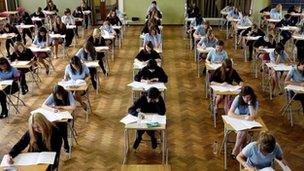 Exam watchdog Ofqual has ordered the re-writing of an exam paper and threatens further action as it investigates reports that exam boards are giving unfair advice to teachers.
The watchdog's investigation found a "clear breach" of rules at a WJEC exam board seminar about a GCSE ICT paper.
Uncertainty still remains over whether any other exams due to be taken in January will be affected.
Ofqual has also written to exam boards demanding tougher checks for errors.
Education Secretary Michael Gove, responding to the inquiry into unfair advice from examiners, said that he did not rule out "that a larger-scale reform might be necessary".
Labour's education spokesman Stephen Twigg says the government needs to "get a grip on our examination system".
The investigation by Ofqual was ordered by the education secretary after undercover filming by the Daily Telegraph showed exam board seminars where it appeared teachers were being given unfair information.
This first stage of the inquiry has now found that a seminar held by the WJEC exam board broke the rules and "compromises the planned exam".
As such the exam, due to be taken in January by 450 candidates in England and Wales, will be "withdrawn, amended and sat at a later date".
The exam board says a replacement paper will now be set for early March.
But the claims made by the Daily Telegraph, relating to the exams discussed at 11 other seminars, have still to be fully investigated.
No further proof of wrongdoing has been found, says Ofqual. But it has still to complete its scrutiny of the evidence, including 52 hours of audio recordings.
If there are to be any more changes or postponements to exams scheduled for January - schools and pupils will not find out until the beginning of next term.
The inquiry also considered an immediate ban on such seminars for teachers, but will now review their future role.
Examiners faced questions from MPs on the education select committee last week about the videos recorded at seminars.
Examiners who had been suspended as a result of the secret filming told MPs of their regrets about using language such as "cheating".
Exam board bosses denied that there had been any compromising of the integrity of qualifications - with claims that this was one of the most transparent exam systems in the world.
The watchdog has also written to exam boards about another problem facing the exam boards this year, when mistakes were found in a series of exam papers.
Exam boards are being told to take a tougher approach to checking the accuracy of exam papers, after an Ofqual report found an "insufficient focus on quality early in the question paper process" and a "lack of clarity" about responsibility for checking papers.