'Master teacher standard': School unions reject plan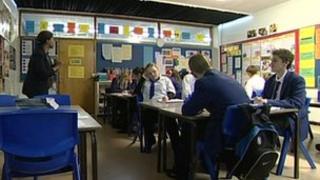 A proposed new "master teacher standard" to recognise outstanding teaching has divided opinion in the profession.
A government commissioned review recommends scrapping the existing system to create just two levels: teacher and master teacher.
Education Secretary Michael Gove welcomed the proposals by academy principal Sally Coates.
But teaching unions said the new designation would be divisive.
This is the second report by the independent review team led by Ms Coates, head of Burlington Danes Academy in London.
Its first report, published in July, defined minimum requirements for all teachers.
The second report looks at the standards expected for more experienced and higher-performing teachers.
The government is now considering how to implement the proposals.
To attain master standard, teachers would have to demonstrate deep and extensive knowledge of their specialism, command of the classroom and excellent organisational skills.
Ms Coates said the new grade would recognise the teachers who had the deepest impact on improving the lives of their pupils.
"It is designed to set out a powerful statement of what it means to be a really excellent teacher."
'Unanswered questions'
The report was welcomed by some head teachers, among them Joan Deslandes, head teacher of Kingsford Community School in London.
"For hundreds of years, Britain has led the way in education. The master teacher standard represents a clear and effective model which will ensure that our country continues its great tradition of pioneering, inspirational teaching," she said.
However Russell Hobby, general secretary of the National Association of Head Teachers, said he feared that the proposals would alienate many primary school teachers because of the emphasis on subject specialism.
Christine Blower, general secretary of the National Union of Teachers, described the title of master teacher as anachronistic, given that the majority of the profession was female.
And Brian Lightman, general secretary of the Association of School and College Leaders, said he had many unanswered questions - for example, on how the new standards would fit with current pay and conditions and performance-related pay.
The government has asked the School Teachers Review Body to consider the implications on teachers' pay of implementing the proposed new standards.