Pupil premium cash for poorer children rising to £600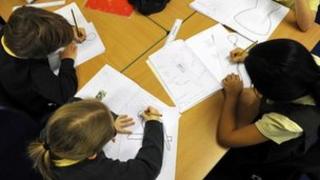 The pupil premium for disadvantaged children in England's schools will be worth £600 per pupil from next year, the government has announced.
The current level of support is £488 per year for each eligible child.
A local authority breakdown shows that schools in Birmingham and Kent will receive the biggest amounts of funding.
Children's Minister Sarah Teather said: "It will help schools tackle the inequalities that have been a part of our state system for far too long."
But Martin Johnson, deputy general secretary of the ATL teachers' union, said it was "just a redistribution of a shrinking pot of resources to England's schools".
Earlier it was announced that the funding would be widened to any child who had been registered for free school meals in the past six years.
Low achievement
This would mean that about a quarter of pupils could qualify, up to the age of 16, about 1.8 million pupils.
At present, a number of eligible families who might register for free school meals in primary school do not register for secondary school - and these pupils will now qualify for payments for their schools.
This increased payment will be within the announced pupil premium allocation of £1.25bn for 2012-13. This budget will grow to £2.5bn by 2014-15.
Schools will be allowed to decide how to spend the pupil premium payments, which are intended to help close the gap in academic performance between wealthier and disadvantaged children.
According to the Department for Education, only 32.5% of youngsters who have been on free school meals achieve the benchmark of five or more good GCSEs, compared with 64% for non-free school meals.
As well as children from low-income families, the premium also applies to looked-after children. A lower level of premium is also available for the children of servicemen and women.
The regional figures show the wide variation in funding, as the scheme seeks to match payments with concentrations of poorer pupils.
A big urban authority such as Birmingham will see its schools receiving £45m per year, while an authority such as Wokingham, in the South East, with relatively few poorer pupils, will see its schools receiving £1.25m.
Kent, with a large number of schools and pockets of deprivation, will also be among the biggest recipients, eligible for £24m next year, while schools in neighbouring East Sussex will receive £8.2m from pupil premium funding.
A breakdown by parliamentary constituency shows schools in Birmingham Ladywood receiving £7.6m in pupil premium, while schools in Horsham will receive £619,000.
Brian Lightman, general secretary of the ASCL head teachers' union, welcomed the increase.
"Providing additional support to help disadvantaged students succeed is a priority for schools, however the additional pupil premium must be considered in the overall context of shrinking school budgets."
Christine Blower, general secretary of the National Union of Teachers, argued that the pupil premium funding was against a backdrop of real-terms funding cuts.
"The Institute for Fiscal Studies reported that almost three-quarters of primary schools and 90% of secondary schools face losses against inflation over the period to 2015, even taking into account the pupil premium," she said.
Labour's education spokesman Stephen Twigg said: "Additional money being given to support pupils from more deprived backgrounds is welcome. However, it does not make up for what independent analysts say are the biggest cuts in education spending since the 1950s."
Mr Twigg also warned that there was too little accountability to make sure this funding was being used effectively.
But the Department for Education says schools will have to show how the money was spent and the impact on educational attainment.
Children's Minister Sarah Teather said: "For too long social background has been a deciding factor in a child's achievement and future prospects.
"In a fair society, it's the government's responsibility to close the gulf in achievement, where the poorest children are less likely to leave school with five good GCSEs than their less deprived classmates."