Third examiner is suspended after secret recording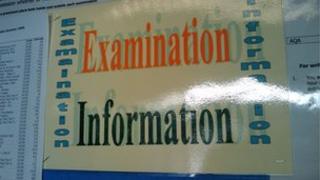 A third examiner has been suspended following allegations that she suggested a course was easy.
The chief examiner, from Edexcel exam board, was recorded by the Daily Telegraph saying the course content was so small she did not know how it had been passed by the regulator.
Edexcel says the examiner regrets making the comments.
MPs on the Education Select Committee have called exam board heads to an emergency session next week.
The Telegraph sent undercover reporters in to 13 seminars for teachers held in London by various exam boards.
The exam boards run them for teachers to give them "advice and support" in preparing their pupils for the exams.
Two inquiries have been launched in to the allegations - one in England and one in Wales.
The government has said fundamental reforms are needed in the exam system.
In the latest case, the examiner was recorded by reporters posing as teachers.
The paper says she said: "There's so little [in the course] we don't know how we got it through. And I'm deadly serious about that. When I looked at it I thought, 'how is this ever going to get through?'."
A spokesman for Edexcel said the examiner had been suspended - and regretted what she had said.
"Our examiners have a duty to uphold high academic standards at all times and like us, they should take this responsibility very seriously," he said.
"There is strong evidence that [the examiner] has not taken her responsibility to uphold standards seriously.
"We will investigate both this issue and the allegations regarding disclosure of future exam content."
Two examiners from the Welsh exam board - WJEC - were suspended after teachers at an exam board seminar were allegedly told which questions would come up.
MPs' emergency session
The heads of four exam boards are to appear before MPs on the Commons Education Select Committee on Thursday.
The committee was already looking at the exam system - but an emergency session is being arranged.
The committee's chairman, Graham Stuart MP, said it would hold the heads of the exam boards publicly to account.
"We will also want to ask the regulator how such alleged breaches have been allowed to happen and explore what can be done to ensure that our qualifications support and encourage real learning rather than undermine it," he said.
But he also warned against any knee-jerk reactions: "Any changes would have far-reaching and long-lasting consequences so must be entered into carefully and not be driven by short term outrage, however valid.
"Alongside the government's own inquiry I hope our hearing will help uncover the truth and play its part in restoring the faith of parents, students, and the public in the quality of our exams system."
'Hasty assumption'
The union which represents most secondary head teachers, the Association of School and College Leaders (ASCL) said there should be no "hasty assumption" that misconduct by examiners was widespread.
"Most teacher training events organised by awarding bodies are well run and there to inform teachers about the details of the specification and to provide guidance about the complex arrangements for assessing the course work or controlled assessments," he said.
The Education Secretary Michael Gove has said he will take any action necessary to restore confidence in GCSEs and A-levels, saying "nothing is off the table" and that exam boards could lose the right to set exams.
He expressed concern about a possible conflict of interest between the exam boards as businesses and exam standards in a recent letter to England's exams regulator, Ofqual.
He said there was a "significant risk" of awarding bodies producing "less challenging" content and exams to get schools to choose their exams over those of other exam boards.
Schools pay exam boards to sit their exams.
Ofqual is to look at the issue - and that of companies linked with exam boards selling text books and study aides.