When does help with exams become cheating?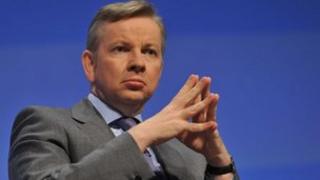 When does helpful advice for students on exams become cheating?
That is the question that is at the heart of the outcry about allegations made in the Daily Telegraph - but it is just one of the questions now being asked about the exams system from staff rooms to No 10.
The paper filmed a seminar run by an exam board in which teachers were allegedly told which questions would and would not come up in forthcoming exams.
A good teacher will prepare their students well for their exams, studying all areas of the syllabus and showing them what will get them the best marks.
They will use their experience to make a calculated guess about what might or might not come up in an exam.
Everyone can probably remember a teacher saying: "This topic has not been on the paper for a couple of years so is likely to come up."
But in recent years, teachers have been getting more and more guidance from those setting the exams - whether on websites and videos or at seminars like those targeted in the Daily Telegraph's investigation.
The exam boards' seminars give teachers "advice and support" on their qualifications and to tell them how students did in the previous year's exams. And that is allowed.
The allegation is that some individuals working for the exam boards went too far and said which topics would and would not come up.
The other related issue here is the potential conflict between exam boards - as businesses - and the need to maintain exam standards.
The exams industry is big business. Spending on exam fees doubled in the seven years to 2009-10, to £302.6m.
'Very high stakes'
Michael Gove is concerned that exam boards might be tempted to offer easier exams to attract schools to them - and thus contribute to a "dumbing down" of standards.
Schools want their students to do well and are under league table pressure to do that too. Might they be tempted to go to a board which offered an easier exam?
John Bangs, visiting fellow at the Institute of Education, says exam boards and schools are under great pressure to deliver.
"It is a very, very high stakes system," he said.
"It's high stakes in terms of commercialism and it's high stakes in terms of getting the results for schools and examiners are under enormous pressure to do that."
Looking at the websites of the exam boards, some qualifications are marketed to teachers and schools as being "accessible" to students. Critics see this as code for "easier".
The whole area is now under intense scrutiny.
The prime minister's spokesman and the Education Secretary Michael Gove say the system needs reforming.
England's exams watchdog Ofqual recently wrote to Michael Gove setting out its plan to "assess and encourage the health of the qualifications market".
The correspondence between the two has only just emerged and reveals the government's unease with the system.
The Ofqual inquiry will look at the whole business side of exams and the potential risk this could pose to standards.
In particular it will look at market forces and the risk of "downward pressure on standards of qualifications"; that they might lead to the creation of "too many qualifications" and issues surrounding text books and training services for teachers.
Text books and study aides are produced linked to specific exam board's qualifications, often published by companies associated with the exam boards.
Some teachers advise pupils to buy certain books.
'Race to the bottom'
In his response, dated 29 November, Michael Gove says: "In our view the chief risk of market failure with qualifications, is in relation to standards - the so-called 'race to the bottom'.
"The nature of competition seems to present significant risks of awarding bodies producing more 'accessible' specifications, with content which is less intrinsically challenging, in order to capture market share."
He went on: "We have significant concerns about the links between awarding bodies and the publication of text books.
"This is an area where there can be a tension between what is in the public interest and what would be in an organisation's commercial interest."
This Ofqual work looks to be long-term - to be carried out over the next 18 months - but its investigation in to the allegations made in the Telegraph is to be completed within two weeks - so it is possible some changes might be made sooner rather than later.