The cost of Christmas: Your views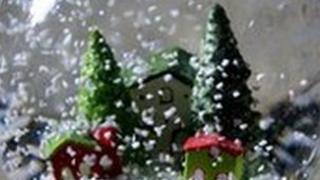 The lowest price for an acceptable Christmas for a low-income family with two children is £182, according to a study - but the average family can spend up to £700.
Research for the charity Family Action says most UK families will spend between £530 and £682 on gifts, decorations, food and drink.
Most of the poorer families questioned for the study said they would spend less than £200. Here is a selection of your stories on the pressures to spend big this Christmas.
Stuart McCallum, Glasgow
I tend to save from the middle of the year onwards for my children's Christmas presents.
I also buy bigger gifts during the year. My boy is 12 years old and my girl is 10, so they tend to want a lot this time of year.
I think that £182 isn't enough for a family.
I am a single parent and a computer game alone costs £40.
I feel that if you want a good Christmas you need to budget during the year.
You hear people saying they can't afford it, well they could if they budgeted!
Kerry Prendergast, Cheshire
There is a ridiculous pressure on parents to spend money they simply do not have on Christmas presents.
The culture that we now live in is one of excess and greed and although our country is struggling economically we still have a spend, spend, spend mindset.
Christmas is just one day of the year and it is a religious festival but people have completely forgotten this.
They insist on buying things they don't need and spend the next six months paying for it.
I have three children and both my husband and I are teaching assistants on a below average dual income. My children will have £85 each this Christmas and they will be happy with that.
Christmas should be about spending time as a family and thinking about the true meaning, not spending what we don't have.
Debra McLean, East Midlands
As a third year degree student, who's degree has taken three years longer than financially planned for - due to cancer. I have no funds left.
My partner had to take a £15,000 pay cut due to moving up to the East Midlands so money is very tight.
I have a four-year-old that so far has not had a proper birthday party with his friends, just a cake with close family.
Now Christmas is here, I am up to my eyes in my studies and somehow have to scrape together money for presents.
Bills will not be paid this month so he will at least have a fairly good one. I will have to catch up with the bills throughout the year.
My mortgage will hopefully be okay as it is paid with my student loan but as a final year student this is less than the other years.
I feel so guilty as I gave up teaching (I was an unqualified drama teacher). I had to get the degree I needed to continue in something I had been doing for nine years.
Sophia Mandava, London
My family and I will not fall for the whole commercial aspect of Christmas.
We tend to buy our kids the gifts when we have money which tends to the latest gadgets - as and when they are released during the year.
We have taught our children, aged nine and 10 the realities of life and the meaning of disposable income and cash flow.
They are the least bothered about Christmas since they would normally have their desired toys already fulfilled when we had the funds.
Christmas is all about family, food and drinks and the quality time we spend together. Memories are not created by one day in the year and the presents associated with this day.
Nicole, Berkshire
I've currently spent £123 on presents, decorations, and stocking stuffers. I expect I will spend at least another £30 if not more for my contribution to Christmas dinner and drinks.
This morning I took out a £150 loan to cover my Christmas expenses.
The sad thing is, as my family lives in Canada, I barely have to spend any money on gifts, and I'm still likely to top the £183 minimum budget that a family of four spends.
My close friend who I have been living with for nine months, is currently on the minimum wage and often is just barely able to afford food, much less Christmas supplies.
I think it is quite disheartening when one cannot even afford a turkey, which is what Christmas should entail.