Christmas costs family with two children 'at least £182'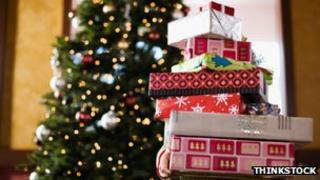 The lowest price for an acceptable Christmas for a low-income family with two children is £182, a study says.
Research for the charity Family Action says the poorest families will spend two-thirds less on the festivities than the average family.
Most UK families will spend between £530 and £682 on gifts, decorations, food and drink, it adds.
But most of the poorer families quizzed for the study said they would spend less than £200.
The report, Breaking the Bank: A Cut-Price Christmas, is based on detailed focus groups and interviews with 22 families who use the charity's services.
Many felt pressure to buy gifts for their children that were far more expensive than they could afford.
They blamed this mainly on retailers, the media and older children's expectations of electronic goods like MP3 players, mobile phones and branded items.
One parent said: "The older ones, they're all wanting mobile phones or the laptops and you haven't got the money for that."
Another said: "Mine, she wants a toy from X and it costs £40. She shows me on the TV every day, when they show advertisements. She just points with her finger. 'Mum, can you buy me this for Christmas?"'
'Challenge'
Nonetheless, the majority of the parents planned to spend less than £200 in total this year and almost all planned to buy their children essential clothing as Christmas gifts.
The report says: "A Cut-Price Christmas highlights the challenge of being a parent on a low income: not wanting to crush your kid's sense of fun but not being able to escape the reality of up-to-the wire budgeting and debt."
A minimum standard Christmas involved celebrating Christmas Day along with the extended family, a slap-up meal, and giving a few cheap gifts.
A lone parent with two children aged eight and 12 is likely to receive £209.49 per week in benefits if they are not working.
The report suggests they would need to save up their disposable income for two-and-a-half weeks to be able to afford the £182 Cut-Price Christmas.
'Tricks'
Families looking to save some money through buying cheap, counterfeit goods - especially online - are being warned that such counterfeits can be inferior or unsafe.
The UK Borders Agency said that fake UGG boots, GHD hair straighteners, iPhones and iPads had been seized on the way into the UK by officers in recent months. These were among tens of thousands of counterfeit items that had been seized.
"We are uncovering all sorts of fake goods, from beauty products to children's toys, and we are warning people to be particularly wary of buying cheap items online or from unofficial traders," said Grant Miller, from the UK Border Agency's Heathrow international trade division.
"It is easy to be tricked into thinking you are getting a bargain, but in the run-up to Christmas our message is that if something appears too good to be true it probably is."
Ron Gainsford, chief executive of the Trading Standards Institute, said: "In this difficult economic climate money is tight for many of us, but there could be a high price to pay for bargain presents that are not the real deal.
"Trading standards are working hard with other authorities to stop criminals ruining consumers' festive spirit as millions of low-quality and potentially dangerous counterfeit products are flooding the country in time for Christmas, particularly in markets, car boot sales and online."