GCSE results 'dip during World Cup summers'
By Hannah Richardson
BBC News education reporter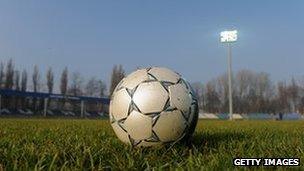 Many students who take GCSEs during international football tournaments get worse results than they would in a football-free summer, a study suggests.
GCSE exams happen in May and early June, and often overlap with the World Cup or European Championships.
A study of 3.5m GCSE students' results between 2002 and 2008 suggests they dropped, on average, a quarter of a grade in each exam during such events.
Both boys and girls were affected, with poor boys hit the hardest.
The researchers, led by Robert Metcalfe at Oxford University, suggested that in even years, when tournaments are held, there are "increased inequalities".
Dr Metcalfe said: "For the most affected, which are disadvantaged boys, they have a much larger drop, the effect is doubled."
It means this group can drop about half a grade in each exam taken during a big football competition.
Dr Metcalfe said: "It shows how important short term, last-minute effort is. Students have control over one thing, how much effort they provide, and we don't spend enough time on that.
"Time spent watching and talking about football is clearly time not spent studying - so our findings give an indication of just how much student effort matters for achievement at GCSE."
He added that it was likely that parents were distracted by the football games as well, and might therefore not be encouraging their children to revise.
Fellow author Professor Simon Burgess, of Bristol University, said: "With Euro 2012 coming up next summer, we should be aware of this issue and see what kind of support schools can provide to help students' concentration.
"Further out, we should perhaps try to shift the exams to just three weeks earlier in the year, so that they don't clash with the big football tournaments.
"More broadly, we need to recognise the importance of effort in driving educational achievement. There's lots of discussion of school resources, class size and family background, but effort is rarely mentioned in policy debates."
Related Internet Links
The BBC is not responsible for the content of external sites.