University tuition fees: Last-minute changes approved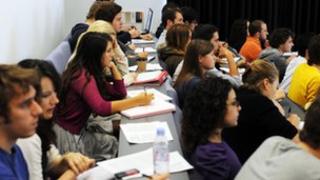 About a fifth of England's universities have had their plans to change their fee packages approved weeks before the application deadline.
The Office for Fair Access (Offa) said 25 institutions were allowed to change their fee packages to make use of new rules allowing them to expand.
Overall, fees were reduced in 11 institutions, while fee-waivers or special discounts have risen by £37.4m.
But bursaries and scholarships are down by £13.8m, Offa said.
Universities were allowed to seek alterations because of the late announcement of the new expansion rules by the government.
Last month Offa said it had received applications from 27 institutions. Some 25 of these wanted to reduce their average fees to £7,500 or below in order to bid for the 20,000 places set aside for this purpose. Two were seeking changes for other reasons.
But ministers had stressed changes should not disadvantage any student.
However, the National Unions of Students has said tens of thousands of students will face weeks of uncertainty because of the late changes. The main deadline for university applications through the university admissions service, Ucas, is mid-January.
NUS president Liam Burns said: "Fee-waivers are a con-trick that will only benefit graduates who are earning enough to pay off their student loans within 30 years.
"They help the Treasury, who have to spend less on loans, but are of no benefit to students whatsoever."
The Director of Fair Access, Sir Martin Harris, said that as expected, some institutions had chosen to move money out of bursaries and into fee-waivers - which are special discounts for poorer students - enabling them to reduce their net average fee.
He said: "What we have seen is that in addition to reducing their headline fees by £16.3m, institutions have also significantly increased fee waivers.
"In short, money is not just being moved from pot to another, there's also additional investment, particularly in fee-waivers, so reducing the net costs for some students."
Bursaries cut
And he claimed there had not been any overall reduction in financial support for students, despite the fact that bursaries and scholarships are being cut overall by nearly £14m.
But he added: "However, bursaries and fee-waivers are not the same thing. Bursaries are money in a student's pocket now whereas fee-waivers reduce a loan that some students may not need to repay in full.
"We don't yet know which will prove more effective in terms of supporting and protecting access and retention."
Martin Lewis, head of the independent task force on student finance information, said: "While lowering fees may feel like good news, to do it some of the universities are switching money away from bursaries.
"When this happens it perversely takes money out of future low to mid-earning graduates' pockets.
"That's because their repayments are solely based on earnings (9% of everything above £21,000) - and even at the lower fee level they won't come close to repaying their loans in full within 30 years when the debt wipes."
'Confusion'
The University and College Union said the changes added further confusion for students at a time when applications had slumped by 13%.
Its general secretary Sally Hunt said that in the main, universities that had cut their fees had also cut the bursaries they offered to potential students.
"So while students may be attracted to a cheaper course, they will probably receive less financial support when they are at university.
"The fact that students who have already applied have just a month to make such important decisions exposes the utter shambles of the government's higher education policy."
Maximum tuition fees will rise to as much as £9,000 a year next autumn.
Universities were required to submit their plans for higher charges, bursaries and fee-waivers for certain groups of students back in April. These were then assessed by the fair access regulator, Offa.
But this was before the government published its proposals in the Higher Education White Paper, which was delayed and included measures for expansion for institutions charging less than £7,500 a year.
This was widely seen as a last-minute measure to bring the overall cost of higher fees down after it became clear that more universities than expected were planning to charge maximum fees.