Teaching unions in talks with government officials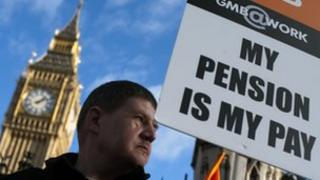 Both sides in the teachers' pensions dispute are playing down the likelihood of an early deal being struck.
Union leaders and Department for Education officials met for the first time since strikes closed thousands of schools across the UK on Wednesday.
Talks focussed on the "nitty gritty" details of last month's offer.
Education secretary Michael Gove, who briefly attended the talks, said they were "cordial and constructive".
The talks had been scheduled to take place before the strike happened and officials said they would be technical in nature.
After they broke up, a DfE spokesman said: "Teaching unions met officials in the Department today for further talks about teachers' pensions.
"The Secretary of State met them briefly, to reinforce his commitment to reaching a negotiated settlement."
Before the discussions, general secretary of the NASUWT teaching union, Christine Keates, said she did not think a break-through was close.
She said there had been progress in that the DfE had agreed to put the details and the background calculations of the proposal made in early November on the table for union negotiators to consider,
'Impossible'
These were announced by Liberal Democrat Treasury Minister Danny Alexander and included the offer to protect teachers set to retire in the next decade from any changes and alterations to the accrual rate.
The detail would allow the unions to go away and work out how their members, at different stages of their career, might be affected by the changes.
"The difficulty is there isn't a typical teacher's pension - some people have taken career breaks, some people are just starting out and others are closer to retirement," she said.
"We could have been a lot further on if this information we requested months ago had been forthcoming.
"Now it's all becoming very high stakes because the government has set this impossible timetable of having this all sorted by Christmas.
"Given the complexity of pensions they are setting a timetable that's actually impossible."
'Mood misjudged'
Russell Hobby, general secretary of the National Association of Head Teachers, said he hoped there would be a "change in tone" in the negotiations.
He said the government "misjudged the mood and scale" of Wednesday's strike over the changes to pensions.
He has previously said that earlier meetings about the dispute have involved civil servants who had been unable to offer any alterations to government proposals.
There have been three meetings between officials and teaching union general secretaries since September 2010, plus two ministerial meetings with unions.
The president of the Association of Teachers and Lecturers, Alice Robinson, has said she hoped the dispute would be resolved by Christmas.