University applications down 13% on last year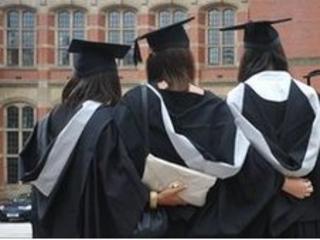 UK universities appear to be facing a slump in applications ahead of the first year of higher fees, the university admissions body says.
The latest figures from Ucas show applications to university courses starting next autumn are down 12.9%.
They show the number of students who have so far applied for places at UK universities is 158,387, down 23,427 on this time last year.
But Ucas says there may be a late surge nearer the January 15 deadline.
Tuition fees will be increased to up to £9,000 per year from 2012, but Ucas says it is too early to say whether this will affect the final demand for places.
The admissions body says that application patterns this far ahead are historically unreliable as indicators of the eventual year-on-year change.
Too early to tell
Ucas chief executive Mary Curnock Cook said: "Recent changes in higher education funding mean that application patterns this year may be different to previous years and we are gearing up for a possible late surge close to the 15 January deadline where applicants have taken more time to research their applications.
"We expect some depression of demand due to a decline in the young population but it is much too early to predict any effects from changes in tuition fees."
This months figures are similar to those published last month which showed a 12% year-on-year drop in applications.
But courses which have an October deadline: medicine, dentistry and veterinary science, plus Oxford and Cambridge, showed a reduction of less than 1%.
Figures for applications to veterinary medicine alone showed a slight increase.
Universities and Science Minister David Willetts agreed it was too early to judge underlying trends.
He said "Most new students will not pay upfront, there will be more financial support for those from poorer families and everyone will make lower loan repayments than they do now once they are in well paid jobs."
The National Union of Students called on the government to rethink its plans for higher education.
NUS president Liam Burns said: "Ministers must stop tinkering around the edges of their shambolic reforms, listen to students, teachers and universities and completely overhaul their white paper before temporary chaos turns into permanent damage to our education system."
"Close to crisis point"
Shadow higher education minister Shabana Mahmood promised that Labour would reverse the corporation tax cut for banks and use the money to help cut fees to a maximum of £6,000.
Martin Lewis, head of the Independent Task Force on Student Finance Information, said: "We are close to a crisis point for university applications.
"The portrayal of changes as being mired in a lifetime of debt is enough to put anyone off."
He called for a shift in the debate away from the politics surrounding the fee rises to a focus on the practical financial reality of how the fees will be repaid over students' lifetimes.
Million+, the body representing the newer universities, said detail of the figures reveals the biggest downturn in applications to be from mature students.
Its chairman Professor Les Ebdon said: "One in four first time undergraduates is a mature student.
"No-one should lose the chance to be what they might have been. Ministers need to up their game and should launch a campaign in the New Year to ensure that older students understand the new loan system and the opportunities available."
Sally Hunt, general secretary of the University and College Union, called the figures very worrying.
She said: "We are still waiting for some universities to readjust the cost of their degrees, which adds even more confusion.
"Students should be looking to study the courses most suited to their talents, not searching for something in their price range, and universities should not be forced into cutting prices to try and fill places."
The University of Reading pointed out that last year was a record year for applications as many students decided not to take a gap year to avoid paying higher fees.
The university says application numbers for its courses in 2012 are down on this year's but comparable with those for 2010.