Teachers' dilemmas over pension strikes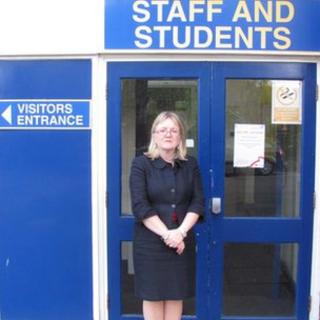 Secondary school head teacher Siobhan Lowe has been lying at awake at night agonising about whether to join the public sector pensions strike.
She agrees with the concerns her union - the National Association of Head Teachers - has about changes to teachers' pensions, fearing these will see teachers having to work longer, pay more and get less from their pensions.
But, as a head teacher, she feels she has a moral duty not to strike.
"I have this moral dichotomy about being a head teacher and closing my school. I don't want to deprive the pupils of their education - it's a real dilemma," she says.
After some personal agonising, Mrs Lowe has decided to close the school to pupils for the day, while she works along with any other non-striking staff.
The Department for Education estimates at least 90% of schools in England will be closed on Wednesday because of industrial action and schools in Wales, Scotland and Northern Ireland are also likely to see disruption.
Education Secretary Michael Gove is urging striking teachers and heads to think again, saying there is a good offer on the table following negotiations.
But Mrs Lowe, head teacher of the highly successful Tolworth Girls' School in Surbiton, south-west London, is worried about the impact of pension changes on her staff, about 70% of whom are planning to strike on Wednesday.
"They don't earn that much. The average salary for a teacher is about £30,000 plus and if you are living in London that is only going to get you a mortgage of about £120,000 and rents in this area are high."
Mrs Lowe says: "I know the perception from the media is that we have these so-called gold-plated pensions and long summer holidays.
"But we work hard. We do Saturday school here, we do after-school here and the teachers do not get anything extra for their time.
"If you're a teacher you have to be innovative and inspiring from your first class in the morning to your last class in the afternoon.
"That's 600 pupils that you are inspiring on a daily basis. It's exhausting," she says.
Experienced teacher Richard Inch, who is planning to strike on Wednesday, agrees that life as a teacher is all consuming.
"It's not just a job, it's a way of life," she says.
"I often wake up at 5.30 in the morning and start thinking about work," he explains.
'On quicksand'
The head of resistant materials at the school worked as a civil engineer and a computer programmer, before retraining as a teacher 16 years ago.
"I had a company car, a good wage and a bonus every year. I took a pay cut to become a teacher," he says.
Now the proposed changes to his pension make him feel like he is "on quicksand", he says.
The scheme was reassessed and renegotiated in 2007 and found to be sustainable, he adds.
For head of science and technology at the school Jim Green, a decent pension was part of the trade-off for his years of dedicated service.
He says: "Part of what I bought into is that my salary isn't ever going to be fantastic but, at the end of the day, I was looking forward to a good pension."
He describes himself as a reluctant striker but is angry at the way that the government has portrayed teachers.
"The government is suggesting we are being greedy but it is not actually true because the pension scheme is sustainable."
Teaching at 68
However, maths teacher David Pelham who worked for 25 years in industry before becoming a teacher says he thinks teachers' pensions are still good - even after the planned changes.
"I think the teachers' pension scheme is still a good deal compared to the private sector."
He is not planning to strike on Wednesday but he is opposed to the government plans to make teachers work until they are 68.
Mr Green agrees: "My wife teaches in a special school and she has to get down on her knees a lot. She thinks the idea that she should do this until the age of 68 is ludicrous."
Fellow maths teacher Mark Barrett, who is 31 and used to work in finance, is also opposed to working until he is 68. He says he has always viewed himself as someone who would work until a good age.
"But," he says, "having been a teacher for a year now I know how stressful it is and I don't think I could work as a teacher until I was 68. I just wouldn't have the energy required."
Mr Barrett, who is also planning to strike, says: "We all know why the country's finances are in such a bad state and it's not because of teachers."
Gina Healy, who represents the school's support staff for the union, Unison, says staff feel like they are being taxed by the back door.
She adds: "We work for a school we don't want to disrupt the students' lives but we feel that the government has really given us no choice."
Mr Gove says there is no "hidden pot of gold" for teachers' pensions.
He has also criticised union "hard-liners" over the strike, saying they were "itching for a fight".