Unhealthy food 'returning to school' warn caterers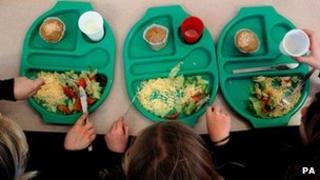 Unhealthy snacks could be returning to schools in England, caterers are warning.
Six years after the Jamie Oliver campaign and the introduction of strict nutritional guidelines, caterers say they are getting requests for fatty foods and sweets.
They say the requests are from some of England's new academy schools, which do not have to follow the guidelines.
The government says it trusts schools to act in their pupils' best interest.
And it says it has no reason to believe that academies will not provide healthy, balanced meals that meet the current nutritional standards
The Local Authority Catering Association, which has 700 members across the UK, said it was concerned that there could be a return to unhealthy eating in schools.
Linda Mitchell, from the association, said: "Our members are telling us that they have been approached by academies to relax the rules and as providers to hundreds of thousands of schools we are concerned.
"They are being asked to put confectionery and other snacks back, especially at mid-morning. It is the return of the sausage roll to schools."
She said caterers were mostly being asked to put snacks in to vending machines in schools.
"It's a very small step before you are seeing the introduction of confectionery and fizzy drinks back in to those machines."
She suggested schools might be under pressure from pupils and parents to re-introduce certain foods and that some might be tempted by the high profit margins she said there were on sweet or fatty snacks.
After the campaign for healthy school lunches led by the TV chef Jamie Oliver, schools in England had by law to meet stricter nutritional guidelines.
Sweets, crisps and fizzy drinks disappeared from vending machines, which were removed or else dispensed healthy snacks.
Under regulations in England and Northern Ireland - and guidelines in Scotland and Wales - schools should:
restrict the amount of fatty, sugary and salty foods on the menu
increase the use fresh fruit and vegetables
ban the sale of sweets, crisps and fizzy drinks
In England, local authority schools also have to supply meals which comply with strict nutrient standards.
From 2013, Wales intends to enshrine its guidelines in the law too.
A spokesman for the Department for Education in Westminster said the school food regulations were the "benchmark of high standards".
"We trust schools to act in the best interest of their pupils - they know the importance of healthy school dinners and the benefits they bring," he said
"We have no reason to believe that academies will not provide healthy, balanced meals that meet the current nutritional standards. In fact, the School Food Trust tells us that some of the best schools in terms of attitudes to food and meals are academies."
He added that the government was asking the School Food Trust to carry out a small study of some academies to look at their approach to providing healthy school food to pupils.