Sir David Cannadine: Make history compulsory to 16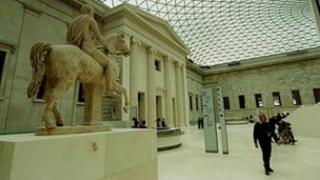 History should be compulsory in England's schools until the age of 16, argues historian Sir David Cannadine.
He wants history to have the same status as English, maths and science, and says many other countries required the subject to be taught beyond 14.
"I can see no reason why this country is not on an equal footing with the rest of Europe," said Sir David.
The Department for Education is currently carrying out a review of the national curriculum.
The Princeton-based professor argues against further "tinkering" with the history curriculum, but says that it should be taught at least up to the age of 16.
At present, history only has to be taught until 14 - and Sir David says that this means too much has to be crammed into a short period of teaching time.
He contends that if pupils continue studying history to GCSE and A-level, the current structure often means repetition of topics rather than a sense of widening knowledge.
'Shocked'
Sir David has written an analysis of how history has been taught since the beginning of the 20th Century, called The Right Kind of History.
He says that such detailed, evidence-based work should be applied to decisions about how subjects are delivered in school.
He criticises the brevity of time in office of many education secretaries - averaging two years - which he argues is not enough for politicians to make well-informed policy decisions.
"I was shocked to discover that the average tenure was the pitifully inadequate time of two years. This is no way to run a company of any size, and it is certainly no way for those in charge of our nation's education to work," says Sir David.
There is also a challenge to the exam boards, with Sir David calling for an inquiry into how they operate and are regulated.
"There is a question mark over the extent to which examination boards are profit-making businesses and how much they are disinterested agencies of evaluation and accreditation, and this needs to be scrutinised," he says.
In response, Jim Sinclair, director of the Joint Council for Qualifications, said: "Awarding bodies are transparent organisations that are committed to providing a world-class examination system.
"They are accountable to the independent examinations regulators in England, Wales and Northern Ireland who monitor all their activities, as well as schools and colleges who are free to decide which awarding body they use."
A Department for Education spokesman said: "We've been very clear on the importance of history. That's why it is a compulsory part of the curriculum up to Key Stage 3 and is one of the core subjects of the English Baccalaureate."
Ministers have complained that the current history curriculum is "decidedly thin on actual knowledge".