Children's commissioners warn on child poverty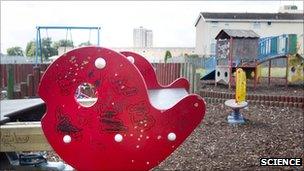 The UK's children's commissioners are warning that child poverty could rise as the UK tackles its economic problems.
The commissioners for England, Wales, Scotland and Northern Ireland, who champion children's rights, say cuts are already hitting "key children's services".
They warn that benefits changes could push more families in to poverty.
The government says its benefits changes should cut child poverty.
It says the best way to do this is through parents working and its policy would "make sure work pays".
The commissioners' report - timed to coincide with the International Day of the Child - praises the Westminster and devolved governments for some of their policies.
It says there have been improvements in youth justice, the treatment of children seeking asylum and those with disabilities.
But it said persistent high levels of poverty across the UK were unacceptable.
Official government statistics suggest one in five children in the UK (2.6 million) lives in poverty.
For a family of four, that is defined as having an income of £347 a week or less.
However, some groups use a different measure, including housing costs, and say the true figure is one child in three (3.8 million).
The commissioners' report says: "At the heart of our concerns within this report are the high levels of persistent poverty in the UK.
"There is a very real danger that this figure [3.8 million] will increase."
The commissioners warned that changes to the benefits system could force more families below the poverty line.
The Welfare Reform Bill will introduce a tougher regime for claimants and some families will find their payments capped.
A spokesman for the Department for Work and Pensions said: "The best and most sustainable way to reduce child poverty is through parents working.
"This is why our welfare reforms will make sure work pays and remove disincentives from the benefit system."
The commissioners' report said they appreciated that "tough decisions" might be needed because of the challenges the government faced.
But it went on: "We are seriously concerned that those most vulnerable in our society will face and are facing disproportionate hardship."
It is 20 years since the UK government ratified the United Nations Convention on the Rights of the Child and this commissioners' report is meant to show how the UK government and the devolved administrations measure up against it.
A spokesman for the UK government said it was committed to promoting children's rights and to the implementation of the convention.
"The report from the four children's commissioners is a timely reminder of how much we have done to implement the UNCRC, and where we still need to make progress," he said.
"We will continue to work closely with the children's commissioners to ensure that policy and implementation is informed by their ongoing investigations and advice."
Related Internet Links
The BBC is not responsible for the content of external sites.