University 'consumer culture' warning
By Sean Coughlan
BBC News education correspondent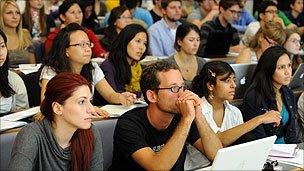 The new chairman of a group of leading research universities has warned against treating students as "consumers purchasing degree certificates".
Michael Farthing, the incoming chair of the 1994 Group, challenged the government's plans for a shake-up of higher education in England.
He criticised the "lack of attention" to postgraduate students in the changes to student finances.
A government spokesman defended plans for more "student choice".
The speech from Professor Farthing, vice chancellor of Sussex University, expressed disappointment with the government's White Paper, which sets sets out a course for a higher education system shaped by competition and market forces.
"We cannot fall into the trap of reducing higher education to a set of simple transactions. Universities are so much more than warehouses that sell off-the-shelf qualifications, and students are more than consumers purchasing degree certificates," said Professor Farthing.
"We need to talk about the student experience less in terms of transactions and more in terms of relationships. Universities are communities where people come together to create and share knowledge."
He strongly criticised what he claimed was an over-emphasis on young undergraduates and a neglect of postgraduates and research.
"One of the biggest disappointments of the higher education White Paper was the near complete lack of attention it gave to research," said Professor Farthing.
Professor Farthing is the latest academic to raise fears about the future funding of postgraduates, when the tuition fee, loans and repayment plans have focused on undergraduates.
"Cuts in the teaching grant will impact on postgraduates just as much as undergraduates. But there is as yet no access to subsidised student loans for them. "
The move to encourage more competition on price between universities has included the allocation of 20,000 undergraduate places for courses where tuition fees are below £7,500.
The bids for these places have been revealed by the Higher Education Funding Council for England - with applications submitted for almost 36,000 places.
Among the bidders are 34 universities and 167 further education colleges.
The final allocation of these places, which could see places moving out of universities and into further education colleges, will be announced next year.
The current high level of autonomy for universities in the UK has been applauded by the European University Association, which has published its annual international league table.
In this ranking of European university systems, the UK is in the top three places for all categories of autonomy - financial, academic, organisational and staffing.
A spokesperson for the Department for Business, Innovation and Skills said the changes in funding, information and places would help students.
"Up to now, the number of places at each university has been set centrally. That is not in the interests of students.
"So, in 2012-13, one quarter of all places will be freed from number controls, with greater liberalisation in later years. That means more diverse provision, more student choice and more accountable institutions.
"People have a range of reasons for going to university but it is vital that they have the information at their fingertips to make well-informed decisions about what and where to study. We want to see the best possible match between universities and students."
Related Internet Links
The BBC is not responsible for the content of external sites.