'Don't force pupils to eat all school dinner' advice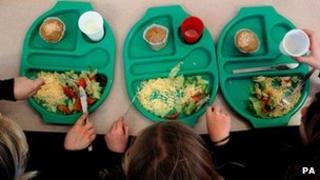 Schools are being advised not to require children to eat all of their main course at lunchtime before getting a pudding.
The School Food Trust suggests requiring pupils to eat everything on their plate, whether they want it or not, can be "counterproductive".
Experts say forcing children to eat food they dislike can have a long-term impact.
But schools are also advised not to allow pupils just to eat pudding.
The guidance from the trust, which advises schools on healthy eating, came to light after a number of heads and school leaders sought advice from national information service for school and college leaders, the Key.
It provides its 10,000 school leader members in 2,700 schools with help and advice on a range of issues from the numerous bodies that provide guidance to schools.
A number of head teachers had asked for advice on whether their staff could "make children finish their main courses before having pudding", it said.
The School Food Trust guidance says: "Younger children shouldn't always be expected to finish everything on their plate, and should be able to eat dessert even if they haven't finished their main course.
"Food should never be used as a punishment or a reward.
"Lunchtime supervisors and school cooks get to know about the likes and dislikes of individual children, and can vary portion sizes and the way food is presented to help.
"One very common tactic is to offer taster portions so that children can try new dishes and flavours on a small scale first."
'Clean plates'
The advice is backed up by children's health charity Shine which says: "Try to stay away from a 'clean plate' policy [and] try not to promote over eating by saying 'If you eat all your dinner you can have a pudding'.
"This will encourage children to eat for a reward, rather than because they are hungry."
The charity also says on its website: "It is important that parents don't create an eating disorder or promote poor self-esteem in trying to help their children.
"The emphasis should be on teaching children to eat healthily and exercise regularly - not for them to diet."
The School Food Trust, the main body responsible for producing guidance on healthy school meals, also says that desserts, such as cakes and biscuits, should only follow a main course.
The spokeswoman added: "It's about trying to engineer it so that what pupils are eating is nutritionally balance. We wouldn't endorse forcing children to eat up everything on their plate."
The trust has argued that well-prepared and thought-out school dinners can actually help encourage fussy young eaters to try more foods.