Boarding school drive for vulnerable children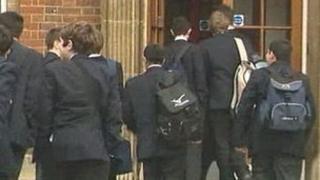 A charity is calling on more local councils in England to send vulnerable children to boarding school rather than into care.
The Royal National Children's Foundation is setting up a network to help local authorities at its annual conference in London, hosted by the The Princess Royal, on Thursday.
The charity supports 300 children in 90 boarding schools.
It says boarding school does not suit all children, but can change lives.
Chairman of the RNCF Colin Morrison said boarding school was also a cheaper option for councils, saying it cost about £2,500 a week to cover the cost of a child staying in a children's home.
"Our research shows that boarding school can help change the lives and prospects of young people who have sometimes suffered a horrifying start to their lives," he said.
"They respond to the pastoral care, individual attention and wide range of opportunities at boarding school."
The RNCF estimates that about 15 councils in England between them fund about 75 children at boarding school.
By 2018, it wants to increase to 1,000 the total number of boarders supported by charities and local authorities.
It believes the system works best for children "on the edge of care".
And Mr Morrison says it might help attract potential foster carers, for whom full-time care of a child might not be practical.
Close to their roots
Norfolk County Council has placed about 20 children in boarding schools and says it wants to to increase that number "substantially".
Terry Cook, head of educational achievement for Children in Care at the council, said the scheme had helped children get on educationally and in life.
The key to success, he said, was "selection, preparation and support" and keeping the child quite close to their home so that they could "stay close to their roots".
"While assisted boarding needs to be considered seriously as an option for young people whose development is compromised by their home, family or day school circumstances, it needs careful decision making so that unsuitable placements are not made."
Kent County Council is also looking at the idea.
It is looking to find places for 25 "at risk" children by the start of the next school year.
Councillors there have said such an option might help children by giving them "three square meals a day" and a structured environment away from dysfunctional families.
The expansion of the assisted boarding scheme has been endorsed by Tim Loughton, minister for children and families.
"We encourage local authorities to join the RNCF in this initiative which will help ensure that young people on the edge of care are considered as possible candidates for boarding school placement,"he said.
"It will also support our determined push to attract more foster carers."
Labour, especially its Education Minister Lord Adonis, promoted the idea of boarding schools for vulnerable pupils and for those living in deprived areas, and more state boarding schools were built.
Recently, the coalition government committed £17m to help an inner London primary school offer its pupils free places at a new state boarding school in Sussex.