Cricket could be key to calmer classrooms, report says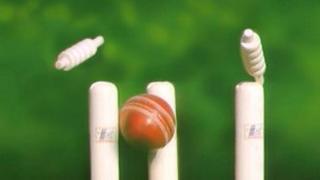 A game of cricket during the school day can help improve pupils' behaviour and lead to calmer classrooms, a report suggests.
Pupils involved in England's national school cricket scheme, Chance to Shine, also appeared more confident and motivated, an evaluation of it says.
The gentleman's game is also effective in teaching good sportsmanship, the Loughborough University report adds.
Cricket also helps pupils deal with setbacks, the study says.
Chance to Shine programme runs regular cricket coaching and competitive matches in 4,000 primary schools and secondary schools in England.
But the charity also aims to develop essential life skills and values, such as leadership, discipline, teamwork and understanding how to win and lose.
Shaking hands
Teachers told researchers they had seen positive changes in the classroom following involvement in the cricket programme.
This was especially the case when schools used involvement in cricket tournaments as a reward for good behaviour.
They also said after a game of lunchtime cricket, pupils returned to their classrooms in a calmer state of mind.
Other benefits included the adoption of important life skills such as learning how to win, to lose and to cope with setbacks.
One teacher told researchers: "There is one boy who was bowled out four or five times in a row and he took it really well, he learn how to deal with this though and came back in the next competition and played really well."
And good sportsmanship learnt in the competitive cricket environment, like clapping batsmen in and out and shaking hands at the end of games, led to better classroom conduct, researchers said.
The report also emphasised improvements in pupils' teamwork in the classroom and how they learn to be more patient with each other.