'Unknown heroine' who caught invisible ink spy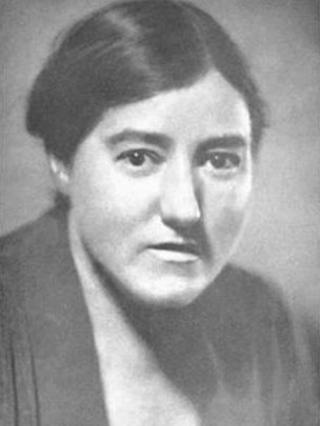 A previously "unknown heroine" who helped to foil a World War I spy plot by detecting secret messages has been discovered through the archives of the Royal Society of Chemistry.
In 1915, Mabel Elliott uncovered messages about military movements being sent by an undercover German agent.
But her evidence given in court concealed her real identity.
The Royal Society of Chemistry, where she worked, now wants to recognise her "astounding energy and dedication".
Professor Lesley Yellowlees, who is set to become president of the Royal Society of Chemistry next year, said: "We can be proud of the fact that chemists literally read between the lines to detect hidden messages."
Invisible ink
During World War I, Miss Elliott worked for the War Ministry in London as a censor of letters.
She spoke fluent German and Dutch and her interception of a letter sent to Holland began the unravelling of a spy network which was sending details of British shipping and troop movements.
The German spy, Anton Kuepferle, had arrived in Liverpool from the United States, under the guise of being an American citizen and wool merchant.
But Miss Elliott found that his business letters to an address in Holland contained secret writing in lemon juice, which when treated revealed information about defence deployments around London and Royal Navy movements around the coast.
Mr Kuepferle was arrested and accused of spying, using invisible ink to send messages to the German secret services.
US newspapers carried stories of his claim to be an innocent American salesman - and described how he had been under surveillance in his hotel room near Victoria Station in London.
But before his trial had been concluded, the accused spy was found hanged in his cell, after apparently using a silk scarf to kill himself. He was said to have left a message admitting that he was a German officer.
A further two spies who were accomplices of Mr Kuepferle were also caught.
Miss Elliott's role in breaking this spy network was never acknowledged in her lifetime because, under this cloak of espionage and counter-espionage, her evidence was given under the assumed identity of Maud Phillips.
This case of tinker, tailor, soldier, chemist was only uncovered when the Royal Society of Chemistry was going through its own archive - and it found details of Miss Elliott's wartime exploits.
Blitz role
This modest spycatcher's involvement in this world of invisible ink and surveillance was not publicly recognised.
After World War 1, Miss Elliott worked for the Royal Society of Chemistry, until retiring in 1937.
At the outbreak of World War II, she used her language skills as an interpreter and passed Red Cross exams to become a nurse. She also helped to look after elderly people during the Blitz.
She died in 1944, at the age of 59, and her obituary in the society's magazine said: "A favourite quotation of hers was Hugh Walpole's 'It isn't life that matters! It's the courage we bring to it.'"
But the Royal Society of Chemistry says that there is still much that remains unknown about her life.
They believe that as a child she went to a German convent school in Holland and later trained at Pitman's College in London.
But the Royal Society of Chemistry, in the week before Remembrance Sunday, would like to find out more about her life and family.