Not in education, employment or training: Your stories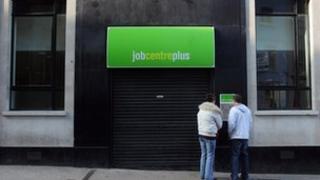 Blackspots for youth disengagement where high levels of youngsters are not in education, employment or training (Neet) have been revealed in a new report.
In Grimsby, Doncaster, Warrington and Wigan, nearly a quarter of 16 to 24-year-olds are Neet. In a further nine cities in England and Wales, dropout rates for youngsters are about one in five.
Here, BBC News readers share their stories.
Byron Britten, Birmingham
I not only live in one of these areas, I'm one of the statistics. I live in Birmingham and left college two years ago after trying to better myself by getting better grades.
I believed that this would help get me a job in retail and the opportunity to work my way up the career ladder.
Two years on and I am still nowhere. It is not for want of trying but I always hit the same wall, work experience.
Employers don't look at you for potential anymore. They look at what you've already done. Yet at one time these managers and interviewers were themselves looking for an opportunity.
That's the sad thing, you see what they have done with the opportunity. There are many young people, myself included, who could do the same given that chance, yet we are turned away again and again.
Every year I have to watch my career ladder shrink. Will I ever get a job?
I need work experience, but I also need a one on one adviser to help me and give me feedback.
No one wants to help. You are on your own with no one to tell you if what you are doing is right or wrong.
Rhi Davison, South Wales
I'm 23, and about to start a temporary Christmas job on Monday - my first in seven months of searching. I count myself very, very lucky to have a job, but I know that when it ends I'll be back on Job Seekers Allowance.
I was studying geology at university but I dropped out because it was not right for me.
One of the reasons I left was I felt that it wouldn't help me find a job. I knew that even if I stayed to complete the degree I would still be in the same position.
I spent time in London trying to find work but had no luck. So I came home to South Wales to find work but here it has been even harder.
There are almost no full time jobs coming up in this area, and certainly none that don't require previous experience. When they don't need previous experience, there are so many people going for the job, you don't stand a chance.
When I came home I was shocked to discover that one of the oldest shops in the town centre had closed and the Job Centre had taken the space as a second centre to cope with demand.
I really cannot fault the Job Centre. They instantly told me what training I could take to improve my chances in my chosen industry.
It's a catch-22. You need experience to get a job, and to get a job, you need experience. Young people don't have much, if any, and fewer employers seem prepared to give them a chance.
In such a tough job market, we're lucky to get anything at all.
Phil Lackland, Holmfirth, West Yorkshire
I worked as a Connexions Personal Adviser in Oldham for four and a half years until April when I was made redundant due to funding cutbacks.
The Neet figures are no surprise at all. Without Connexions there is little dialogue between potential employers, trainers and young people.
From my experience, young people need more than just help with CVs and interview skills.
Some local companies want to take on apprentices but see them as dead weight. They have to teach them employability skills before they start on the training itself.
What is missed the whole time is what young people don't know: Preparing for what to expect when you have a job; what to wear; even how you talk to other people at work.
These are core employability skills that get missed.
I worked with one young person who wanted to become an electrician. I looked at his predicted grades, clearly he had been cruising along and wouldn't manage to get the grades he needed.
Working with him one to one, we were able to work towards his goals. Without help to focus he wouldn't have achieved this. Teachers aren't able to provide this sort of support.