Big names call for arts education to be preserved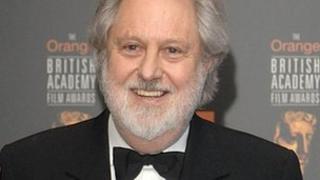 A string of big names from the arts world are urging the government to ensure cultural learning is not stripped from schools in England.
Former film-maker Lord Puttnam, Old Vic director Kevin Spacey and Tate director Sir Nicholas Serota have signed a report showcasing the value of arts education.
They fear changes to the curriculum could see arts subjects sidelined.
The government said its reforms would not stop schools teaching the arts.
The report from the pressure group Cultural Learning Alliance, entitled Imagine Nation, The Case for Cultural Learning, argues that arts and heritage have the power to transform young people's lives.
It cites evidence that poor children who study arts are more likely to go to university and that participating in structured arts improves learning.
'Fullest access'
But the relationship between formal and informal cultural learning is under threat, the report says, both from the "financial retrenchment" affecting cultural institutions and from changes in the education system.
It follows research published by the NASUWT teaching union which suggests one in eight schools is planning to reduce provision of arts, drama and music from their school curriculum.
And concerns have been raised that the government's English Baccalaureate(EBacc), which requires pupils to gain good GCSEs in two sciences, a language and either history or geography, as well as English and maths, could push schools away from offering arts subjects.
The report calls for children and young people to have the "fullest possible access" to a range of arts, culture and heritage.
Their experiences will be drawn on throughout their lives and will enable them to contribute more both social and economically to society, it says.
Chairman of the Cultural Learning Alliance and Labour peer Lord Puttnam said learning through culture and the arts led to creative thinking, confidence and problem solving.
He added: "If we fail to offer our young people the opportunity to participate in the arts and culture, then we fail to support them in becoming the leading thinkers, innovators, creative business and community leaders of the future."
Curriculum changes
The artistic director of the Royal Shakespeare Company, Michael Boyd, Lord Hall, chief executive of the Royal Opera House, and author Nick Hornby have also signed the report, along with heads of teaching unions and education experts.
Prof Mick Waters, leading curriculum expert and alliance member, said today: "This is a critical time for cultural learning. Currently every child has access to arts and cultural opportunities through the national curriculum and through their school.
"This is under threat due to the introduction of the EBacc in secondary schools and could be compounded by the removal of all arts subjects from the whole curriculum - something currently being discussed by the coalition government.
"If the EBacc is followed by new plans to axe the arts from the national curriculum, many of our young people will not have a guaranteed opportunity to participate in the arts at all."
A Department for Education spokesman said: "The whole point of the EBacc is to open up core academic subjects to hundreds of thousands of pupils, particularly the poorest, who are denied the chance to do courses which top universities and employers demand.
"The EBacc doesn't stop any school offering arts subjects. Pupils should take the GCSEs that are right for them - ultimately, it's down to schools to decide how they structure their curriculum to do this.
"The number of EBacc GCSEs has been kept deliberately small - leaving plenty of lesson time to offer other important subjects."
He added that the curriculum was being slimmed down so it focused on the essential knowledge pupils should learn, but because something was not in it did not mean it would not be taught.