Vulnerable adults: 96,000 alleged abuse cases reported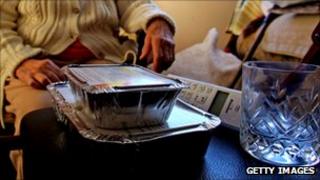 Some 96,000 cases of alleged abuse against vulnerable adults were reported in England last year, statistics show.
Figures on such cases have been released for the first time as councils have a new duty to report them.
Just over a third of cases involve claims of physical abuse, others involve allegations of neglect, financial corruption, emotional and sexual abuse.
Care workers and family members were most often blamed.
The statistics are provisional and the final version will be published in March next year.
They relate to reports of abuse referred to councils' adult safeguarding teams between April 2010 and March 2011.
The NHS Information Centre, which released the data, says the statistics are based on information from all but one of the England's 152 councils.
Among the 96,000 cases reported are some involving the same vulnerable adult.
Just under 14,000 individuals feature at least twice in the total, officials say.
In about four in 10 cases, the abuse was alleged to have happened in the individual's home and in about three in 10 cases in residential care homes.
In just under a third of cases the alleged abuser is a social care or health care worker, while in a quarter it is a member of the family.
'Vital information'
A vulnerable adult is generally seen as someone aged 18 or over who needs community care services because of a disability, age or illness and who may be unable to take care of themselves.
About half of the cases reported involved someone with a physical disability, while just under a quarter involved someone with a mental health issue; a fifth related to people with a learning disability.
NHS Information Centre chief executive Tim Straughan said: "Although this report is provisional, it shines a light on what is clearly an emotive subject involving some of the most vulnerable people in society.
"This information is vital for councils, social care and health professionals to consider their own figures and examine the reasons behind them."
Out of the 96,000 cases, investigations were completed on 75,000 allegations in 2010-11.
Of these, 32% (23,300) were substantiated and 9% (6,900) were partially substantiated. A total of 31% were not substantiated and 28% were described as "not determined" or "inconclusive".