Students' legal challenge to tuition fees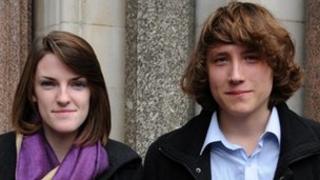 Two students are mounting a legal challenge to the increase in university tuition fees.
The High Court in London is hearing claims that increasing fees to up to £9,000 per year breaches human rights.
The two 17-year-olds, Callum Hurley and Katy Moore, also claim that the government's equality impact assessment was inadequate.
Students now applying for courses beginning in autumn 2012 will be the first to pay the higher tuition fees.
The legal bid to prevent the increase claims that fees of up to £9,000 per year will discriminate against those more likely to be put off by higher fees - such as poorer students and those from ethnic minorities.
Right to education
The case, expected to last two days, argues that the "decision to increase the cap on university fees was unlawful, and should be quashed".
The two students, one at a sixth form and the other at a further education college, want the court to grant a judicial review of Business Secretary Vince Cable's decision over tuition fees.
They claim that the scale of such an increase in the upper level of fees is in breach of part of human rights legislation, which sets out a right to education and a right to education without discrimination on any ground.
The students argue that such a fee increase, rising by almost threefold, is an unreasonable barrier to the right to education - and in particular it will discriminate against the poorest.
The other claim made by the students is that the government has failed to properly assess the equal opportunity impact of raising tuition fees.
They argue that there has been insufficient regard given to how higher fees will adversely affect university applications from specific groups, such as women, ethnic minorities and the disabled - as well as those from the most deprived backgrounds.
Sam Jacobs, a solicitor from Public Interest Lawyers, the firm which is representing the students, said before the hearing that there should have been more time given to consider the impact of raising fees.
"It is astonishing that it was thought appropriate to make such an important decision in such a rushed manner," he said.
"In these circumstances, it is not surprising that there has been a woeful failure to give 'due regard' to promoting equality of opportunity."
Callum Hurley is a BTec student at Peterborough Regional College and Katy Moore is taking her A-levels at Lambeth Academy in south-west London.
A spokesman for the Department for Business, Innovation and Skills defended the fairness of changes to student finance.
"Going to university depends on ability - not ability to pay.
"We have required universities to set much more ambitious plans to attract people from low-income backgrounds, and they will increase their investment in summer schools, scholarships and fee waivers."
"No-one should be put off going to university for financial reasons. Eligible students will not have to pay tuition charges up front, there will be more financial support for those from poorer families, and everyone will make lower monthly loan repayments than they do under the current system - and only once they are in well-paid work."