Ofsted chief proud of 'Dirty Harry' image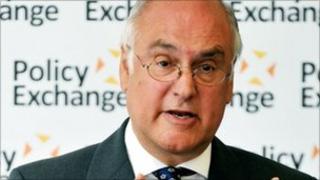 The incoming head of Ofsted has told MPs his "tough guy" image will not be a barrier to success in heading England's schools inspection system.
Sir Michael Wilshaw, who heads Academy chain Ark and east London's Mossbourne Academy, has a reputation for enforcing strict discipline.
He told the Commons education committee he had been known to be a bit like Clint Eastwood character "Dirty Harry".
This image could be useful in raising school standards, he suggested.
Sir Michael, who has been named by Education Secretary Michael Gove as his preferred candidate for the post of HM Chief Inspector of Education, Children's Services and Skills, was appearing before MPs in a pre-appointment hearing.
He was asked whether he thought his "sergeant major" label would improve the perceptions that schools and head teachers have of the schools standards watchdog.
The label was a "piece of journalistic fiction", he said, adding: "In 43 years of my life as a teacher I have never been called a sergeant major."
But he admitted that he had, in an after-dinner speech, referred to himself as being a bit like a Clint Eastwood character. And this had been picked up by a journalist present and reported in the media.
In explanation, he said: "I said in the most challenging schools where the teaching wasn't any good and the staff aren't up to it, the head that has to go in and sort it out is alone."
He added: "Occasionally I've been known to be a bit like Dirty Harry."
'Street cred'
In terms of this image, he said he felt he came with a bit of "street cred" and that he thought it would be useful in raising standards.
"If you look at schools, we have something like 50% of youngsters not getting the five A*s to C. Some 200,000 children don't get the required levels in English and maths each year."
He continued: "If they [schools] see me as as someone that's going to make demands of them, than that's OK."
Sir Michael has already said that he intends to tackle poorly performing teachers and impose robust performance management systems.
Sir Michael also revealed that he had been contacted by several headhunters on behalf of the Department for Education about the chief inspector's post, but had not initially thought himself suitable.
He was then asked personally in the summer by Mr Gove whether he would apply and had decided to do so after consulting friends and family, he said.
He suggested he knew the education secretary quite well, having hosted Mr Gove at his school a number of times and having been consulted for advice by him.
Sir Michael also said he was in education to help those children who had been let down by the system.
And he also warned that schools and head teachers would not manage to turn achievement around in challenging areas unless they get "much more involved in the lives of children beyond the end of the school day".
Ofsted was hearing from Sir Michael as part of its formal role in the appointment process for the post.
The committee will then agree and publish a report, setting out its views on the candidate's suitability for the post.