Post-result university admissions urged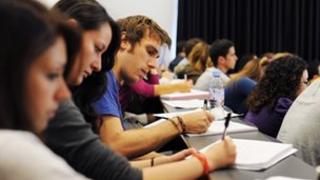 Proposals for a university admissions system where students apply after they have their results have been published by the UK university admissions body.
Ucas - the Universities and Colleges Admissions Service - argues that the current procedure is too complex.
It has been argued that applying after results would aid those candidates less well equipped to "work the system".
Universities Minister David Willetts said a more efficient system would be "good news for students".
But the Department for Education, responsible for schools, cautioned it would mean "big changes to the timetable for exams and results".
The proposals could mean A-level exams starting two weeks earlier than at present.
Tight timescale
Mary Curnock Cook, Ucas chief executive, said the unreliability of predicted grade meant the admissions body now felt "there is a need for change".
"We see that across three A levels, fewer than 10% of applicants actually have all three predicted correctly. Would those be people who might have made a different choice if they'd known what their outcomes were?"
But there were doubts over the proposed changes from the Russell Group of leading universities - with warnings from director general Wendy Piatt that applying after exam results would not "give enough time for candidates to make really informed decisions".
"These are life-changing decisions and they shouldn't be squeezed into too tight a timescale," said Dr Piatt.
The National Union of Students has been a longstanding supporter of switching to applying after results, arguing that it is fairer for poorer applicants who might exceed predicted grades.
NUS vice-president, Usman Ali, warned that the Ucas proposals must not be "dismissed out of hand, particularly by those universities with the most work to do to ensure access is widened for students from disadvantaged backgrounds".
Predicted grades
At present, the deadline for applications for most courses is mid-January, months before pupils have taken their exams. They use a combination of predicted grades, personal statements and teacher references to make their case.
Universities then make "conditional" offers which are confirmed or withdrawn following receipt of exam results.
The majority of results are published on the third Thursday in August (A-level results day) or before in the case of others such as Scottish Highers and the International Baccalaureate.
Ucas acknowledges that the process is "complex" and that many candidates find it hard to understand.
Well-supported applicants and knowledgeable advisers tend to be able to work the system to their advantage, it suggests.
This is because the quality of advice and support given to applicants in a wide range of different circumstances is "very varied".
It also says that its clearing system, used by students who have not achieved the grades needed to gain places they have been offered, is a "sub-optimal" process which is inefficient, stressful and confusing for applicants.
The Ucas Admissions Process Review says: "We believe that a system that makes judgements based on actual grades achieved and not on predicted grades will remove unpredictability from the process and be fairer to all applicants.
"Widening participation may be facilitated if we have a fairer, more transparent and simpler system, with applicants clear at the outset whether they meet the minimum requirements for a course."
Chairman of the Ucas board and vice-chancellor of the University of Birmingham Prof David Eastwood, said: "Changing applicant expectations, together with new modes of funding and delivering higher education, mean this review is particularly timely."
Prof Eric Thomas, president of Universities UK and vice-chancellor of the University of Bristol, said universities, schools, colleges and students would all have to have their say before plans for a post-results system could proceed.
"Clearly the key priority must be to ensure that any changes genuinely benefit applicants, and also that they do not hinder widening participation or fair access for students from lower income and other under-represented groups."
General secretary of the Association of Schools and Colleges Brian Lightman said: "Having to choose up to five different courses long before final grades are known makes the application process complex and nerve-racking.
"Changing the system will require effort and adjustment on the part of schools, colleges, universities, exam boards and Ucas, but it is in the best interest of our young people."
Labour's universities spokeswoman, Shabana Mahmood, backed the Ucas proposals to "remove the uncertainty of applying to university, allowing students to apply based on the grades that they have actually achieved as opposed to applying based on guesswork".
A major report in 2004 into fairer university admissions recommended that a switch to an applications process after exam results should take place as soon as possible.
It found that the current system of applying before grades are known worked to the advantage of the most confident and best supported applicants.
Despite backing from ministers, such a change was never implemented.