Apprenticeships rise by a half, data shows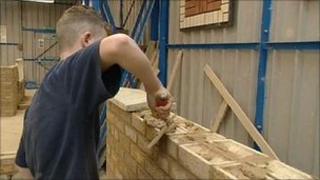 The number of people starting apprenticeships in England this year has risen by more than 50% on last year, official figures show.
There were 442,700 apprenticeship starts in the academic year 2010-11 compared with 279,000 the previous year.
Of these 175,000 were aged over 25, 138,900 aged 19 to 24 and 128,300 aged under 19.
The government wants to see more degree-level apprenticeships.
It set up a £25m fund in July to support 10,000 more advanced level and higher apprenticeships in firms, particularly small businesses, where there are skills shortages.
'Bureaucracy'
Universities Minister David Willetts has been encouraging young people who fail to get a university place to opt for an apprenticeship instead.
A recent BBC survey suggested more young people were considering an apprenticeship as an alternative to university.
The previous Labour government also urged school leavers to consider taking apprenticeships and made efforts to increase the number available.
Business Secretary Vince Cable said he was pleased that sectors like construction, manufacturing and engineering were continuing to back apprenticeships despite tough economic times.
He added: "The government will continue to improve and strengthen the apprenticeships programme to drive up standards, cut bureaucracy for smaller firms and deliver more advanced level a high tech training."