'Teaching Oscar' won by 71-year-old Jeff Stratton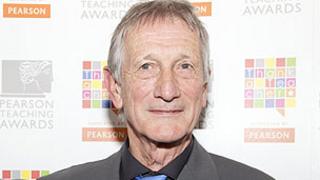 A 71-year-old who is still teaching has won one of the major awards at this year's "Teachers' Oscars".
Jeff Stratton, from Lipson Community College in Plymouth, Devon, has won the lifetime achievement award.
Mr Stratton, who says he remembers Spitfires flying over the playground when he began school, says he has no plans to retire.
The nomination for this award says that Mr Stratton, an art teacher, has the "energy of two teenagers".
'Vocation'
With teachers anticipating that pension changes will push retirement further over the horizon, Mr Stratton says he is more than ready to carry on teaching in the classroom.
And his enthusiasm remains undimmed.
"If you can enthuse kids you should keep on. If it's your vocation, what are you doing retiring?" he says.
"Education is always urgent. I wouldn't miss this for the world."
The awards, now called the Pearson Teaching Awards, were announced in London on Sunday and screened on BBC2.
Mr Stratton was given the Ted Wragg Award for Lifetime Achievement - and his long years in the classroom, beginning in 1960, have seen some major changes.
He says the end of corporal punishment was one of the most positive advances.
"Beating children was seen as a moral duty," he said. Teachers were often reluctant to stop using physical force, he says.
As a head teacher, he said that his staff "went white" with shock when he told them he wanted to stop the use of corporal punishment in his school.
He is also glad to have moved on from the days when many pupils left school without any qualifications at all. Raising the school leaving age was another great civilising step, he suggests.
And cautioning against misplaced nostalgia, he recalls teaching classes of 45 pupils
Public service
Young people show less deference now, he says, but he argues that can be a good thing and it means that teachers have to move beyond being "coercive".
When he is teaching, he says he wishes some A-level students were more questioning. He suggests that this generation has spent so long in a system that keeps testing them to give the right answers that they are less able to challenge and question.
But he approves of the "pinning down" of the curriculum, setting out what needed to be taught. In the 1970s, he said there was a risk that it was becoming too vague.
On the downside, he regrets the introduction of charges into education - specifically the tuition fee for university students.
Remembering Spitfires, Dakotas and Meteors flying above the playgrounds of his childhood, he says that his own life has been as a child of a welfare state and a believer in public service.
The commitment to teaching, providing public service for more than 50 years, he says would not be the same if education had been a commodity that was being bought and sold.
Another unresolved problem, persisting for decades, he says is the failure to raise the achievement of working class boys.
Originally trained as a painter, he has taught art for many years, with the college giving him the title of "master of imagination" in recognition of his ability to inspire creativity.
As well as being a former secondary school head teacher, lecturer and local authority adviser, he has a pilot's licence, keeps ponies on Bodmin Moor and plays guitar. Not to mention co-founding a theatre. And raising funds for a school in Africa.
This isn't the first award given to Mr Stratton. In 1983, he was recognised by the Royal Humane Society for saving someone from drowning during a canoe training exercise.
"I believe so much in the idea of a Renaissance man. You should be able to do anything, you should have a go at everything," he says.
Steve Baker, head teacher at Lipson Community College, says that Mr Stratton "inspires me on a daily basis".