Ofsted warns of parent risks to babies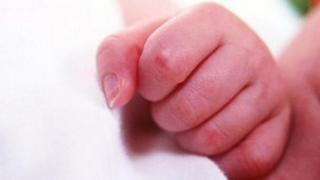 Ofsted has warned of "shortcomings" in the safeguarding of babies under the age of one.
The watchdog, drawing on the findings of serious case reviews, warns that the risks to babies from their parents' lifestyles could be "underestimated".
The report says it found repeated examples of a lack of attention to risks such as drug and alcohol misuse.
Ofsted chief Miriam Rosen said the report highlighted "potential gaps in protecting children".
The report warns of the particular risk to this vulnerable age group of babies before their first birthday.
Risk factors
It says that more than a third of serious case reviews between 2007 and 2011 related to babies below the age of one.
In particular it raises concerns about a lack of attention to the risk factors in parents which could be a danger to their babies - such as alcohol, drugs and domestic violence - or where parents had a personal background which needed to be taken into account.
It says there were were repeated examples of a lack of response to such risks.
Where parents are very young, it says that there has too often been inadequate support and that the parents might need to have been considered as "children in need in their own right".
Ofsted's report also warned that the role of the father was often "marginalised" or they remained "invisible" in assessments and contacts with agencies.
It gave the example of a young infant with many non-accidental injuries where the mother was a teenager who had herself been the subject of a care order, following her own mother's mental health problems. The child's father had a history of violence when he had been drinking.
In another example where abuse was suspected, a child became very ill after being left in the care of her father and then died before her fourth week. There had been previous worries about the father's behaviour and grandparents had "tried to alert agencies" about their concerns.
The report also raises the question of the balance between the rights of the mother and the child. In one case, information about a mother's depression and mental ill health was not shared with other agencies working with the child.
The mother's mental health deteriorated and she suffocated her child, before an intervention had been made.
Troubled teenagers
Because of the "fragility" of such young children, the report says that there is a need for a "very quick response to any concerns".
For children in this young age group, the report says that it was health practitioners who were the main and sometimes the only agencies involved with families.
There were widespread concerns about the failure in the safeguarding of vulnerable young infants following the death in 2007 of Peter Connelly at the age of 17 months. A review of child protection was carried out by Prof Eileen Munro.
The report also addresses another age group which Ofsted says needs further attention - young people aged 14 and older.
These teenagers were too often treated as difficult adults, rather than as children, says the report. Their challenging behaviour could too often become the focus, rather than their underlying problems, says Ofsted.
Ofsted's Chief Inspector, Miriam Rosen, said: "Our analysis of the lessons to be learned from the serious case reviews we have evaluated over the last four years reveals recurring themes which contribute to failures to protect children within these age groups.
"I hope the reports will help local safeguarding children boards and practitioners alike to review their own practice and be alert to the potential gaps in protecting children of all ages."