Number of top A-Level grades could be limited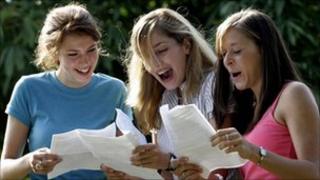 The number of pupils being given the top A* grade at A-Level could be limited in future, Education Secretary Michael Gove has suggested.
He is also interested in the idea of students being ranked against others doing the same exam for their results.
Mr Gove was speaking at a conference on standards organised by England's exams watchdog, Ofqual.
The share of pupils getting top grades in England, Wales and Northern Ireland has been growing since the late 1980s.
Mr Gove told delegates at the conference in London: "Is there a case for exploring whether A*s should be awarded to only a fixed number of candidates?
"I would like to see that debate explored and engaged with."
'Working harder'
On ranking, Mr Gove later told journalists that all candidates for a particular subject could be given their overall grade, but also their ranking compared with others who took the exam.
In reality this might mean that a student was ranked first in that subject alongside hundreds of others who achieved perfect scores.
In his speech, Mr Gove said universities needed to know who the highest-achieving students were.
And while he did believe students were working harder than ever and England's teachers were among the best, he could not ignore business leaders who said A-Levels had been devalued by grade inflation and universities which said students in some subjects had not been taught what they needed to know.
Between 1963 and 1987, a set proportion of A-Level entries were awarded the top A grade - about 10% of those who took the exam.
There was also a set percentage of students given Bs and Cs in any subject.
Mr Gove said he was not suggesting there should be a wholesale return to that system - just that there could be a limit on those getting the highest grade.
The A* grade at A-Level was first awarded last year, after leading universities said they were finding it hard to choose between candidates with equally good grades.
About 8% of A-Level papers were awarded an A* this year, while 27% were given an A or A*.
The pass rate rose for the 29th year in a row.
Hard core
Mr Gove said he had been impressed by the effect of the introduction of ranking of students by individual subjects in a London school - the Burlington Danes Academy in White City.
There, he said parents were told where their child stood compared with other children in their class.
He said he had asked the head teacher Sally Coates if the action was not "a bit hard core and unpopular".
"She said it was the single most popular thing she had ever done," he told the conference.
"At half term, they tell pupils how they have done privately - and then publish the results fully at the end of term.
"As a result, the school has seen a massive improvement in performance overall.
"If ranking can achieve that in one school in White City, if additional data and transparency can generate those beneficial results, is there a case for exam boards publishing more data about the performance of students, rather than less?
"It could be a completely wrong-headed idea. But I put it out there explicitly for debate."
Ofqual's chief executive Glenys Stacey had earlier told the conference standards were "an emotive subject", about which there should be an informed debate.
The watchdog has begun a study looking at how A-Levels compare with similar qualifications taken overseas and says early results show they are coming out "comparatively well" in terms of the depth and breadth of study involved.
'Branded failures'
Glenys Stacey said earlier this week that A-Levels appeared to have less course work, fewer multiple choice questions and more external assessment compared with other similar qualifications.
The measures put forward by Mr Gove are expected to be considered as part of a forthcoming review of A-Levels, which will be overseen by Ofqual.
Chris Keates, general secretary of the NASUWT teaching union, condemned the ideas.
"Apparently, there are no depths to which the government will not sink," she said.
"Not content with branding schools as failures, it now wants to brand individual young people for life. Parents and teachers will be horrified by the prospect."
Adrian Prandle, from the Association of Teachers and Lecturers, said: "We question the fairness of putting arbitrary limits on the number of pupils who are allowed to achieve top grades. Young people should be fairly rewarded for their hard work at school and college.
"The world has changed since 1987 when there was a ceiling on A grades and under 15% of young people went onto higher education.
"We recognise that universities and employers find it harder to differentiate between the top students with the current grading system, but any changes must be properly thought through and benefit everyone - particularly hard-working students."
The exam board Edexcel said it would welcome a debate on Mr Gove's ideas about using the data available to help universities and students with their choices, but added that discussion should not be limited to just one scheme.