Charity warns budget cuts creating family 'time bomb'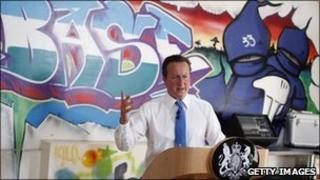 A children's charity has said five family intervention projects it runs in England have been closed and two more are at risk because of funding cuts.
The council-funded projects are aimed at helping families with multiple problems - a group whose lives the government has pledged to turn around.
Action for Children says vulnerable families are at breaking point and services are struggling to cope.
Ministers say good local authorities are making sensible changes.
The charity carried out research with 200 of its staff who run projects around the UK.
It says the country is facing "a financial time bomb by failing to invest in children's services and early intervention measures that will benefit not only children but wider society".
It says the five family intervention projects which closed had their funding withdrawn and that two more are in danger of closing. It has not said which areas they are in.
On top of that, it says, 16 out of 22 of its family intervention projects have had their budgets cut this year. Two saw a loss of between 41% and 50%.
At the same time, demand for the service is increasing, it says.
Unprecedented
Money for family intervention projects comes to councils from a grant from the Department for Education which has been cut by 11%. Other charities also run them.
Under such schemes, a single social worker usually works with a family to get an overview of their problems and helps them liaise with the various government agencies involved in their lives.
The charity also runs children's centres and says 41 out of 64 children centre managers surveyed reported a budget cut.
Of those, it says 35 said funds had fallen by up to 20%
Dame Clare Tickell, chief executive of Action for Children, said: "The scale and pace of change, alongside the cutbacks that we have seen over the past year are unprecedented.
"We are now seeing the impact in communities across the country - and fear it could result in severe and long-lasting damage to the most vulnerable children and their families as they struggle to cope.
"Children's services professionals are trying their best every day but budgets are shrinking and needs are growing quickly. We are at a tipping point."
Children's Minister Sarah Teather said local authorities were "under huge pressure" and making difficult decisions, but good ones were "restructuring with care and making sensible changes so they can continue to provide much needed services for families in a more efficient way".
"Our reforms are centred on targeting the children and young people who need the most help, which is why we are prioritising early years education and early intervention," she said.
"We've given local authorities much more freedom over their budgets so they can better target vulnerable children and families. They will know better than central government what services to prioritise in their areas, based on the needs of their local communities."
'Huge interventions'
The government says it wants to turn around the lives of the 120,000 families in England with "multiple and complex social, health and economic problems" - and cut their cost to the taxpayer.
On Wednesday Prime Minister David Cameron announced that the head of a new unit called the Troubled Families Team is to be Louise Casey, the victims commissioner, who will take up the role early next month.
He told MPs in the Commons: "Some of the most troubled families in our country, they get a huge amount of interventions from the police, from social services, from education and the rest of it.
"But no-one is really getting in there to turn those families around, to change what they do, to give them a better chance.
"We are going to be putting huge resources into turning around the 120,000 most troubled families in our country."
The new team will work across government departments. Details of its make-up and funding have yet to be released.