Muslim faith schools teach 'alien rubbish' says Dawkins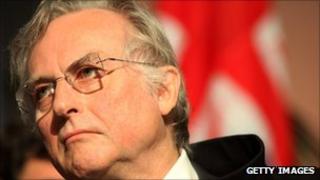 Muslim faith schools fill children's heads with "alien rubbish" as they continue to teach them creationism is true, atheist Richard Dawkins has said.
In the Times Educational Supplement (TES), the Oxford author said they had a "pernicious influence".
The Muslim Council of Britain said it was unreasonable to expect schools not to teach fundamental theories of faith.
The Department for Education said creationism "should not be taught as scientific fact".
Professor Dawkins told the TES he had concerns with all faith schools, but Muslim ones worried him the most.
The author of The God Delusion, emeritus fellow of New College and evolutionary biologist, said young people were being taught that the world was only 6,000 years old.
The effect of this was "utterly deplorable" and could affect the way young people thought right up until their university years, he said.
"Occasionally, my colleagues lecturing in universities lament having undergraduate students walk out of their classes when they talk about evolution - this is almost entirely Muslims," he said.
But Sheikh Ibrahim Mogra, from the Muslim Council of Britain, said: "Faith schools are by and large established to enforce the religious teachings of our lives, and the theory of creation is one of the cornerstones of our faith.
"To expect faith schools not to teach this kind of religious teaching is unreasonable, but I also think it is important for faith schools to teach science to children as well so they are aware of modern day findings and can use the information to ask further questions and strengthen their faith.
"I don't believe any religious teaching prevents people from being creative and independent in their thinking."
A MCB spokesman added: "The results of Muslim faith schools in England in maths and science show a strong compatibility between the Muslim faith and scientific learning."
The chairman of Muslims4UK, Inayat Bunglawala, said it was "important faith groups came to terms with evolution" and taught it in a fair manner.
"I don't think students growing up today are served well by being taught this way by religious leaders.
"It's symbolic and it makes no sense to take it so literally - it will only serve to undermine the faith of students when the two schools of thought could be understood side by side."
Naomi Phillips, from the British Humanist Association, said: "There are a number of problems that go throughout faith schools but I wouldn't say it's just Muslim schools, it's also Christian schools too."
A Department for Education spokesperson said: "All schools must teach a broad and balanced curriculum, and creationism should not be taught as scientific fact.
"Evolution first appears as a concept in the National Curriculum at Key Stage 3."
Naomi Phillips said however more needed to be done to ensure this.
"We've been encouraged certainly by the government saying very strongly that they don't think creationism should be taught in schools, but what we need to see now is real statutory measures, make guidance against teaching creationism."