Exam boards face fines over paper errors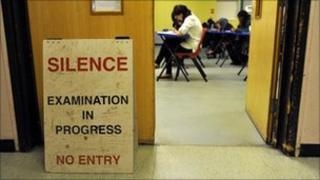 Exam boards which make mistakes on exam papers could face fines in the future.
The Department for Education announced the change after about a dozen mistakes were made on A-level and GCSE papers this summer.
It is giving new powers to impose fines to England's exams watchdog Ofqual.
Schools Minister Nick Gibb said it was "unacceptably poor practice" for even one paper to contain an error, and that hard-working pupils had been let down.
"Pupils work hard for years for their GCSEs and A-levels. They do not deserve to be let down by exam boards' mistakes," he said.
"This summer there were numerous errors.
"We want to give Ofqual tougher powers so it has a range of sanctions at its disposal and can take action against exam boards who fall short of the high standards students and parents expect."
Under its current powers, Ofqual can ultimately take away an exam board's right to set papers.
The government needs to legislate to add in a system of fines, but it aims to have the new sanction in place in time for next summer's exams.
It says the size of any fine will be in proportion to the seriousness of the error - up to a maximum of 10% of an exam board's turnover.
The money will go to the public purse.
Apology
A-levels and GCSEs are taken by pupils in England, Wales and Northern Ireland.
The mistakes in this summer's papers included multiple choice questions where all the answers were wrong and questions which were impossible to answer because wrong information had been given.
Pupils vented their anger on social networking sites, with some calling for the exams to be re-staged.
The exam boards apologised for the mistakes and said they were taking measures to ensure pupils would not be advantaged or disadvantaged by them.
Toni Pearce, from the National Union of Students, welcomed the action.
"We're delighted," he said.
"Whilst it is inevitable that there will be the occasional error, the level of errors that young people experienced in exams in the last year was truly unacceptable and Ofqual must be willing to exercise its new powers if exam boards fail to raise their game in the future."
A spokesman for Ofqual said: "We welcome the announcement that, subject to the will of Parliament, Ofqual is to be given powers to fine awarding organisations in circumstances where they fail to meet the standards required of them.
"We will ensure that these powers are used proportionately and appropriately, and will carry out a consultation into when and how the powers to fine will be used."