Silverstone to house new technical college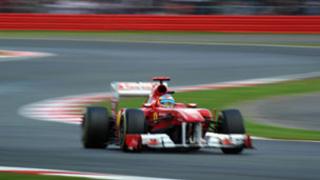 Silverstone motor racing circuit is to house one of the first in a new wave of specialist university technical colleges (UTCs).
Set up with Northampton University and a local college, it will be one of 13 UTCs to offer highly technical subjects to teenagers from next year.
Education Secretary Michael Gove said the UTCs "have the potential to change the lives of thousands for the better."
Others argue they risk setting children on a rigid career path too early.
The government also announced on Monday that it had approved 55 new free schools.
This includes one being set up by the prestigious independent school Brighton College in a deprived part of east London but targeting poor, bright teenagers across the city.
And plans for the first bilingual primary school, which aims to teach in English 50% of the time and Spanish the rest, have also been approved.
Like free schools, university technical colleges are a flagship Conservative policy. They are being pioneered by former Education Secretary Kenneth Baker.
They are similar to German technical schools, where students can elect to follow skills-based education from their mid-teens.
The other 12 new UTCs will be established in Bristol, Buckinghamshire, Burnley, Bedfordshire, Daventry, Liverpool, Newcastle, Nottingham, Plymouth, Sheffield, Southwark and Wigan.
There are already two UTCs open in England, one sponsored by heavy plant manufacturers JCB in Staffordshire and the other, The Black Country UTC, in Walsall in the West Midlands. And three more are already in the pipeline.
They offer 14- to 19-year-olds the opportunity to take a full time, technically oriented course of study and are supposed to be very well equipped with modern technical facilities.
They are sponsored by a university and aim to offer clear routes into higher education or further learning in work.
'High performance'
At age 14-16, pupils in UTCs will spend about 60% of their time on academic, mainstream studies (English, maths, science, humanities, PE and languages and other subjects) and about 40% of their time on technical studies.
The Silverstone UTC will be based within the 800-acre grounds of the Silverstone Circuit, which hosts Formula One races. It will specialise in high-performance engineering, motorsports, and event management and hospitality, and is being co-sponsored by Tresham College of Further and Higher Education.
Tresham College has had close links with Silverstone since 2009, through its national college for motorsports. It already has a unit on the site which is being expanded into the college.
The Department for Education describes it as a "unique environment" where students can work alongside nationally and internationally renowned engineering firms.
Paul Fletton, acting principal at Tresham College, said the University of Northampton had made a significant contribution to the design of the curriculum, which he said would provide students with "the opportunity to develop specialist skills at the iconic Silverstone Circuit".
Richard Phillips, managing director for Silverstone Holdings, said: "It is vitally important that young people have the option to participate in good vocational education and I believe that, by so doing, they can secure jobs in their chosen sectors."
The free school being set up by Brighton College, the London Academy of Excellence for 16- to 19-year-olds, will be based in Newham.
But it will target pupils from across the city, selecting on the basis of their GCSE results and using receipt of free school meals as a basis for identifying underachievement.
It will build on the partnership Brighton College already has with Kingsford Community School in Newham. The college offers post-16 scholarship to a group of Kingsford students every year.