Rethink on schools' duty to work with councils on welfare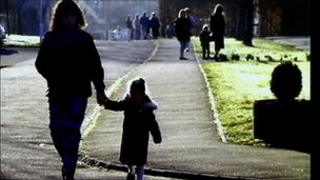 Ministers have abandoned plans to remove schools' duty to work with councils to improve children's welfare.
They had planned to remove the requirement on schools in England in a drive to cut bureaucracy.
But last-minute changes to the Education Bill going through parliament mean schools will still need to work with councils on this.
The government says it has removed "prescriptive regulations" that had gone with the duty to co-operate.
The move has been welcomed by head teachers and council officials in charge of children's services.
The BBC understands heads of children's services had been lobbying the government behind the scenes to keep the duty, which ensures schools work with social services or other officials if there are concerns about a child's welfare.
The change came to light in an amendment to the Education Bill tabled by Education Minister Lord Hill, child protection expert Lord Laming and a Liberal Democrat spokeswoman on children and families, Baroness Walmsley.
Vulnerable children
Matt Dunkley, president of the Association of Directors of Children's Services, said: "This amendment is immensely helpful - the removal of the duty to co-operate had, perhaps inadvertently, given some schools the message that they no longer had a role in supporting vulnerable children.
"This attitude threatened much of the partnership working that had been established in local areas over the last few years. Directors of children's services know the value of services working together to tackle complex issues in the lives of children and families and we are delighted that government are listening to our concerns.
"Restoring the duty makes clear that all schools have a crucial role to play in provision for vulnerable children, including special education needs and work with families with multiple problems."
A spokesman for Department for Education confirmed schools and colleges would still need to co-operate with the local authority and other "relevant partners" in making arrangements to improve the wellbeing of children.
He said: "We have removed the associated prescriptive guidance and regulations and we have come to the opinion that the duty allows enough scope for local areas to create meaningful co-operation arrangements that can be responsive to local needs.
"We have always been in favour of schools and other local bodies working together - we just don't think that we need to tell them how to do it."
Lives at risk
Head teachers had complained that the system was over-bureaucratic, even though they recognised the need for schools to be involved in children's welfare.
Some had warned children's lives were being put at risk because the process for reporting concerns was slow.
Teachers, seeing children regularly, can often spot signs that a child might be in danger of some kind.
Brian Lightman, the general secretary of the Association of School and College Leaders said: "We believe in co-operation, but under the previous duty there were a lot of specific requirements that took up a lot of heads' time - attending meetings for example.
"If the duty is retained but specific requirements are removed then that is a sensible way forward."