GCSE 'near miss' retakes plan for maths and English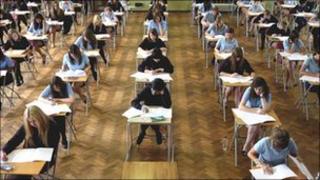 Pupils in England who score a D grade "near miss" in maths and English GCSEs will be expected to re-take at the "earliest opportunity".
The government wants pupils without good grades in these GCSEs to continue these subjects beyond the age of 16.
The one in five with a D grade will be expected to reach at least a C - while others will have more "intensive help".
Schools Minister Nick Gibb said all young people should be "fluent and comfortable in these basic skills".
In this summer's GCSEs, about 41% of pupils did not achieve a C grade in maths and 35% did not achieve this benchmark in English.
Raising leaving age
Following a report from Prof Alison Wolf into improving vocational education, ministers announced that pupils without good GCSE grades in English and maths should continue learning these subjects rather than dropping them forever at the age of 16.
This will be implemented alongside the raising of the leaving age - which will be lifted to 17 in 2013 and 18 in 2015.
The government has now given more details of how these two key subjects will be maintained beyond the age of 16 for pupils in schools and further education colleges - with the plans for English and maths to be introduced from September 2013.
All programmes of study for this post-16 age group, including vocational training, will have to include English and maths.
Those with a near miss at GCSE will be expected to take the subjects again to improve their grade to at least the benchmark of grade C.
Weaker candidate will be given support which could lead to other qualifications which could be "stepping stones" to a GCSE.
Pupils who are not considered suitable for qualifications will still have to continue studying the subjects.
Prof Wolf's report emphasised the need for young people in vocational training to receive robust and reliable qualifications that would be useful in the jobs market.
The proposals are meant to ensure that as many young people as possible, whether or not they are following an academic path, will have good grades in these core GCSE subjects.
There have been longstanding concerns about the number of unqualified youngsters facing diminishing employment prospects.
According to the Department for Education, at the end of 2010 there were almost 142,000 16- to 18-year-olds outside education, employment or training - the so-called "Neets".
"Too many young people are dropping English and maths before they have secured a good grounding. These vital subjects are critical to the economy and as a country we need all our young people to be fluent and comfortable in these basic skills," said Mr Gibb.
Deborah Ribchester, senior policy manager for the Association of Colleges, welcomed the emphasis on English and maths.
"But for some people, GCSE qualifications may not be suitable and re-sits are often not successful," she said.
"We therefore welcome the recognition that the English and maths offer will be dependent on the needs of the student and look forward to working with DfE on developing routes to achievement that will give this group the core skills they need."
The government also announced funding changes for 16 to 19 which would mean that school sixth forms and further education colleges would be paid per student, rather than by the number of qualifications taken by students.