Adoption of children falling by 5%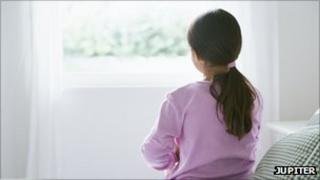 The number of children in care adopted in England has fallen, according to Department for Education figures.
Only 60 children had adoptions completed by their first birthday, compared with 70 last year and 150 in 2007. Overall adoption numbers fell 5%.
Anne Marie Carrie, of the Barnardo's charity, said it was a "tragedy" that bureaucracy stops some people adopting and "treats them with suspicion".
Children's Minister Tim Loughton said bureaucracy had to be reduced.
His comments come after the statistics revealed that, in the year ending 31 March 2011, there had been a 5% decrease in the number of children in care placed for adoption.
There were 3,050 looked-after children adopted, down from the previous year's figure of 3,200. This was an 8% decline since 2007.
According to the figures, the average length of time children waited to be adopted was two years and seven months, and the average age at the time of adoption was three years and 10 months.
Mrs Carrie said the adoption system was partly responsible.
She said: "This is a tragedy, it's a tragedy for the children who are languishing in the care system and frankly it's a tragedy for those people who have come forward who want to be parents and adopt a child.
"One of the factors is the fact that we do not cherish people when they come forward to say they want to be a parent.
"We treat them with enormous suspicion and we set thresholds for people to be adoptive parents that, frankly, we wouldn't be able to adopt our own children.
"So there is something about the thresholds and the bureaucracy that stops parents and treats them with suspicion."
It also emerged that children who are eventually adopted are spending longer in care while they wait.
Some 27,310 children were taken into care last year, down from 28,090 the previous year.
The children's minister said steps had to be taken to encourage the adoption of children in care.
"We need to welcome more people who want to be adoptive parents. It's a big ask and for those people brave enough to come forward and say they're interested in adoption. There's too much of 'don't call us we'll call you' at town hall doors. That's got to change, it will change," said Mr Loughton.
He went on: "There are too many children in the care system there for many years, or their entire childhood, for whom adoption would be a suitable permanent replacement. They've got to be identified earlier and we've got to be more active in encouraging an adoption. That's got to happen. It will happen.
"And the whole process takes far too long - the bouncing back between adoption panels and the courts, the bureaucratic assessments."