Demand for top university places 'may be higher'
By John Waite
Presenter, Radio 4's A Student Voice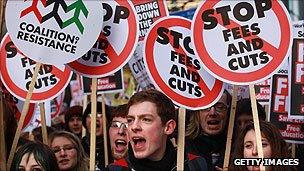 Universities are getting the first evidence of how the hike in university tuition fees is likely to affect student numbers and it is not quite what they were expecting.
"What we have seen is that the numbers of students attending pre-application open days is significantly up on what it has been in previous years," said Professor Paul White, pro-vice-chancellor at Sheffield University.
"We all expected that the levels might well drop because of tuition fees.
"Our first open day had 30% more attendees this year, so we have seen an impact but it's in the opposite direction than we might have thought."
Prof White had anticipated the September open days would bring questions about tuition fees. He had decided to field all those questions himself, but he has not had a single question on the subject.
Instead parents and even grandparents were taking a more detailed note of what exactly was on offer for the money.
"Parents have been turning up in increasing numbers and they want to know about the actual experience of the teaching, what goes on in the seminars and lectures, and what you get from it."
He said universities were responding by clearly defining their unique selling points.
Prof White said he and others at Russell Group universities were experiencing a "flight to quality across the country" with definite signs of parents and students becoming more "market focussed".
"Students are being more discerning about where they go.
"They're looking at the upper end of the league tables. They're being ambitious about wanting to get somewhere with a solid reputation and there's definitely a more noticeable seriousness of purpose around the whole exercise than was the case before."
But other evidence suggests the increase in tuition fees to the tune of £9000, may see a drop in the demand for places in the UK with increasing numbers applying abroad.
At Maastricht university in the south of the Netherlands, where fees are £1,500, there has been a six-fold increase in UK students attending open days.
According to vice dean Dr Teun Dekker, the university is gearing up for a substantial increase when it comes to the actual application process.
"This country still sees university as a right not a privilege, and we will be funded by the Dutch government for as many students as we have, so we can accept people coming from England.
"We want to be international as this enriches all our students. Interest has been going up a huge amount, and we have also had a number of head teachers coming over to find out more about what we do."
Numbers of English students applying to US universities are on the rise, too, according to Norman Renshaw who runs INtuition Scholarships, which acts as a sort of clearing house for would-be British undergraduates at 120 universities in the US.
INtuition also arranges sporting and academic scholarships which drastically reduce the prices UK students will have to pay while in America (typically from around £6,000 a year for tuition fees, accommodation and food, rather than the £9,000 for tuition alone that they face if staying at home).
According to Tom Ellis, who is currently applying to go to college in New York, the move makes financial sense.
"I would be paying more to stay in the UK, and going to America sets you apart. For me it offers a better lifestyle, and the courses I'm interested in are so well taught there," he said.
"From speaking to friends, this is becoming more popular and UK students are in high demand abroad."
Far from travelling abroad, however, two teenagers from Wakefield - Rebecca Clegg and Monica Anderson - told the programme that they intended to live at home to save on the costs of going to university.
"That'll mean we have to choose a uni we can get to by bus," they said, "which probably means Doncaster."
Related Internet Links
The BBC is not responsible for the content of external sites.