'No Pens' drive for pupils struggling with sentences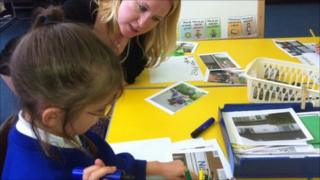 In socially deprived areas more than 50% of children begin school without the ability to speak in long sentences, which experts say can lead to problems in later life. One hundred schools across England are taking part in a day without pens to tackle this speech deficit.
It took the whole class of five and six-year-olds six attempts to reassemble these jumbled words into a coherent sentence: "Past the walked we shops."
Partly it was the noise in the classroom which made listening difficult.
Partly it was the distracting presence of a man from the BBC with a microphone.
But mostly it was unfamiliarity with the basic rules of English, their first language, which made the exercise so long winded.
The children, from Baguley Hall Primary School in Wythenshawe, south Manchester, are bright and normal children.
But they have had few opportunities to develop conversation skills.
It is a poor area with high unemployment and a large proportion of children living in lone parent households.
Family discussions do not happen very often.
In class the children were being encouraged to talk about a trip they made the previous day to walk around the local shops.
But, even when split into pairs, talking partners they call them, the conversation mostly involved simply listing the shops they had seen.
"I didn't hear any child put a nice long complex sentence together," said Wendy Lee, from the Communication Trust, who is working with the school to develop language skills.
"They're tending to just use odd words, or short phrases, rather than the sort of sentences you'd expect to hear from five and six-year-olds."
Earlier this year there was a shocked reaction to a BBC report that some children start school not knowing their own name.
Such instances are of course the rare exception, but in schools like Baguley Hall Primary, about two-thirds of the children begin their school life with poor language skills.
It has meant the school has to spend a lot of time on basic speaking and listening activities, to build up the children's communication skills.
Without these skills the normal curriculum would be lost on many of the children.
"It can be a real struggle," said Jenny Midgeley, the class teacher.
"You would expect that there'd be some sort of narrative in their speech, but there isn't.
"They say things like 'Went shop', which you'd expect much younger children to say.
"I don't think they got much conversation at other times either, so the more talking we do the better.
"They need to get speech right before they can start writing."
The school is part of a project called "Talk of the Town" run by the Communication Trust, which is a coalition of charities.
They go into schools and work with parents to raise awareness about the important role conversation skills have in facilitating learning.
"The school is doing a fantastic job of supporting children's language," said Wendy Lee, from the trust, "but they've got a huge catching up job to do before they can get on to the stage where other schools might be.
"And all that has to be balanced with the learning and the curriculum and getting the children to where they need to be in terms of attainment.
"It's not easy!"
Researchers have found strong links between poor communication skills and a variety of problems later in life.
Language impairment is found to be an issue for two-thirds of children with serious behavioural problems, 60% of young offenders, and up to 90% of unemployed young men.
Baguley Hall Primary School, and its nearby big brother, Newall Green High School, are part of "No Pens Day", an initiative taking place in more than a hundred schools across England.
As the name suggests, there will be no writing taking place in any lessons, and instead children will take part in discussions based on their normal subjects.
"Children might find it uncomfortable," said Andrea Taylor, assistant head at Newall Green High School, "but I think a lot of teachers will find it uncomfortable too.
"It can make classroom management techniques difficult to maintain, and that's why teaching often involves closed questioning rather than this expansive type of teaching."
The day is the idea of Jean Gross, the government's Communications Champion. She was struck by some research on the average pupil contribution to a class.
"The teacher asks a question," she said, "it's a factual question which needs a factual response. A child replies.
"The teacher asks another question, and the average length of a pupil's contribution is only four words.
"Well, you're not getting a great deal of practice at learning to be a great communicator if you are only able to say four words in a lesson."
Listen to Andrew Bomford's report on BBC Radio 4's PM on Wednesday 28 September at 17:00.