University leaders' social mobility warning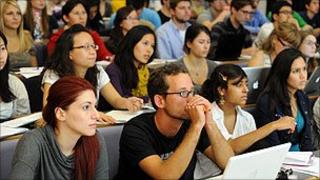 The coalition government's drive for a market in higher education could damage social mobility, universities say.
Universities UK, representing university leaders, has voiced concerns about "unintended consequences".
In particular there are concerns that plans to expand places at institutions charging the lowest fees, and for students with AAB A-level grades, could limit choices for other students.
The government insists its plan means a "stronger focus" on social mobility.
In an unusually hard-hitting response to the government's White Paper, Universities UK has warned that the push for market forces could "adversely affect" four key areas: social mobility, student choice, subject mix and "future institutional viability".
'Reducing choice'
Under the plans put forward by the government, universities would be allowed to increase the places for applicants with AAB grades at A-level and also for those charging average tuition fees less than £7,500.
This expansion will mean more places at the most sought-after institutions - and more places on the cheapest courses, including further education colleges and private providers.
But there are fears among university leaders that this will narrow the places available in the middle ground and reduce the range of what universities can offer.
The university leaders' response to the White Paper says: "On the one hand the government is committed to increasing social mobility and sees universities as critical to this.
"However, UUK believes that these proposals may inhibit social mobility by reducing choice, and minimising institutional flexibility over admissions decisions.
"It is essential that the gains made in social mobility through expansion of the system in recent years are locked in for the future."
The White Paper proposals from the government set out a more market-based higher education sector, following the decision to allow universities to charge fees up to £9,000 per year.
"The government needs to make sure that we all understand the impact of the current significant policy changes before further changes are introduced," said Eric Thomas, president of Universities UK and vice chancellor of the University of Bristol.
The White Paper was also strongly criticised by the British Academy, the national body for the humanities and social sciences, which warned the plans could "damage the international reputation of higher education in the UK".
The British Academy attacked an "impoverished vision of higher education" which failed to recognise the public value of universities.
There was also a warning that the funding changes focused on undergraduate courses, but showed "little regard to their impact on postgraduate study and research or on academic career progression".
A spokesperson for the Department for Business, Innovation and Skills said: "The government's higher education White Paper sets out proposals that will put students at the heart of the system, with a stronger focus on improving social mobility, funding following the choices of students and making universities more accountable on teaching quality."
"All responses to the consultation will be carefully considered and we will respond formally in due course."