Vogue publisher Conde Nast to open fashion and design college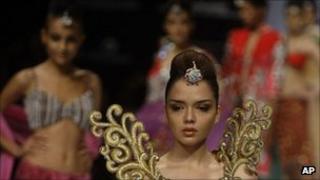 The publisher of Vogue magazine, Conde Nast, is to open a college of fashion and design in London.
The college will open next September and the principal will be magazine editor Susie Forbes.
It is the first step in to the education market for the international publishers.
The company says it will offer a year-long Vogue fashion foundation course, as well as short courses. It also plans interior design and decoration courses.
The new college says it has no plans as yet to offer undergraduate degrees but is considering such a move for future academic years. It will offer some courses at Masters level.
The government in England has said it wants to attract new providers in to the education market.
From 2012, degree-level students at private universities in England will be eligible for state-funded loans of £6,000 for their tuition fees.
Many colleges team up with universities to award degrees which have to meet the standard of that higher education institution.
Conde Nast says it has had talks about collaboration with several "respected institutions of higher education" and will confirm details later.
'Fashion capital of the world'
Managing Director of the company Nicholas Coleridge said: "Conde Nast is perfectly placed to enter the world of education. The reputation and authority of our brands puts us in a strong position to teach and inspire the fashion and decorating talent of the future."
The college principal Susie Forbes is currently the editor of Easy Living and was deputy editor of British Vogue for five years.
She said: "With access to some of the sharpest and most creative minds shaping the fashion, design and interiors industries today, we aim to educate students to the highest level. It makes perfect sense for Conde Nast to open its college doors in London, the fashion capital of the world."
The group says the subjects covered will include the history of fashion and design, the fashion year, journalism and business skills related to the industry.
London is already home to the London College of Fashion and Central Saint Martins, which are part of the University of Arts London.
Both offer degree-level courses in fashion alongside other subjects.
The London College of Fashion was set up more than 100 years ago, when it trained girls in dressmaking, millinery, embroidery and hairdressing.