UK families face consumer pressure, says report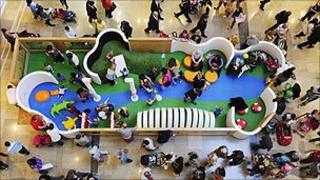 Parents in the UK feel powerless before the consumer pressures on their children, suggests international research into family life.
The study by Unicef, comparing families in the UK, Sweden and Spain, found UK parents buying high status brands to "protect" their children from bullying.
Parents in the UK struggled to spend enough time with their children.
The report also found parents in Sweden and Spain found it easier to "set clear boundaries for their children".
The study follows a Unicef report from 2007, which ranked the UK in bottom place out of 21 developed countries for the wellbeing of children.
Researchers from Ipsos MORI have now looked in depth at the particular pressures on UK parents and children.
They consulted 250 young people in total, comparing the experiences of a 24 families in the UK and two other Western European countries, and then discussing the findings in focus groups of children aged eight to 13.
They found that family life was "part of the fabric of everyday life" in Sweden and Spain.
'Brand bullying'
But in the UK families felt under much greater pressure - worried about a shortage of time with their children and feeling unable to resist the "materialism" of modern childhood.
Fears about not having the right brand of trainers or electronic gadgets for children meant that parents in the UK, particularly those on low incomes, felt they had to buy these goods, even if it meant getting into debt.
A 14-year-old from the UK told researchers: "No matter how much money they have, people still manage to put up a front of like they have money… You could live in a dustbin, and as long as you have an iPod, a Blackberry, then you're accepted."
This value attached to such possessions was a particular feature of family life in the UK, said report author Agnes Nairn.
"Fears about 'brand bullying' are much stronger in the UK. Parents seemed to feel much more helpless," said Dr Nairn.
"There was an incredibly strong feeling that children have to have these things to fit in - otherwise they'll be the only ones in their class not to have them."
The Unicef report describes parents as feeling "compelled" to buy - even though they knew much of this spending was "pointless".
"Toys, broken presents and unused electronics in the home were witness to this drive to acquire new possessions," say the researchers.
Family time
In comparison, Dr Nairn said that parents in Spain and Sweden seemed to find it easier to refuse to buy goods for their children - and that there seemed to be much less pressure to have particular brands.
In Sweden there are tougher limits on advertising aimed at young people, which Dr Nairn said could be a factor in a less consumerist culture.
Family life, including with the extended family, was more clearly protected in Spain and Sweden, the research suggests.
But in terms of children's wellbeing, the study found that time spent with family was what really brought satisfaction.
"It came out loud and clear that children want to spend time with their family and friends," said Dr Nairn.
But a culture of long working hours and distractions inside the house, such as computers and televisions, meant that families in the UK spent less time together.
Children also reported how much they enjoyed sports and outside activities - but again in the UK this was under pressure from the amount of time spent in front of television and computer screens.
Children's Minister Sarah Teather responded to the survey by saying: "We know strong, stable families are the bedrock of a successful society. We want to make sure all families have the help and support they need."