Student loan early repayment penalty proposal 'crazy'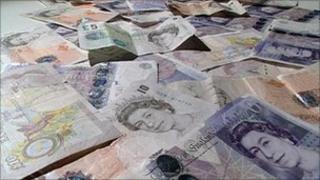 Coalition proposals to charge graduates in England for repaying student loans early would be ineffective and costly, the think tank CentreForum says.
The government is currently consulting on a suggested plan to penalise early repayment, targeting either high earners, large repayments, or both.
It wants the penalties to make the system "more progressive" and says they should not hit those on modest incomes.
But CentreForum says most early payments are not made by high earners.
The new system would come into force from 2012, when tuition fees will increase to up to £9,000 a year.
Fees will initially be paid by the government, and then repaid by the student after graduation, when they begin to earn £21,000 or more per year. Unpaid debt is written off after 30 years.
Debt aversion
The coalition says the system is "progressive".
The interest rate increases as the graduate's earnings rise, from inflation (RPI) for those earning £21,000 or less to RPI plus 3% for those on £41,000 or above.
But the government is concerned that allowing early repayment would enable higher earners, or those from wealthy backgrounds, to "unfairly buy themselves out of this progressive mechanism".
It is therefore suggesting a system where a levy is charged on repayments over a certain level, such as £1,000 or £3,000 a year, possibly just for those on incomes above a specified amount, such as £60,000.
Early repayments are allowed, without penalties, under the current system.
But CentreForum, which describes itself as liberal, argues that most of those who overpay do so because of debt aversion, not because they are wealthy.
The median income of those making such payments if £18,400, it points out, quoting a figure from the government's consultation document.
Report authors Tim Leunig and Gill Wyness said: "Introducing a system of early repayment penalties for affluent graduates, or those who pay off large chunks of their loans, is crazy."
They also said:
It would be difficult to calibrate such a system effectively
The sums raised would be small relative to the costs of administrating the system
Early repayment reduces costs to the Student Loans Company, and therefore the government
The very rich bypass the student loans system anyway, by paying their tuition fees upfront
CentreForum's board members include Liberal Democrats, among them Deputy Prime Minister Nick Clegg, Business Secretary Vince Cable, Energy Secretary Chris Huhne and MP David Laws, as well as Conservative Universities Minister David Willetts.
Mr Cable is said to have supported introducing an early repayment penalty as the Liberal Democrats and Conservatives sought to reach agreement on raising fees.
The Department for Business, Innovation and Skills has not commented on the report, other than to state that the consultation is still under way.
The consultation applies only to student loans in England.
Scottish home students do not have to pay tuition fees and no changes are planned to the repayment system
Northern Ireland's government has said fees will not rise for the next four years.
The Welsh Assembly has announced that fees will rise to up to £9,000, as in England, but the government will meet the extra cost to Welsh students studying at any UK university.