Childcare costs put parents in debt, survey concludes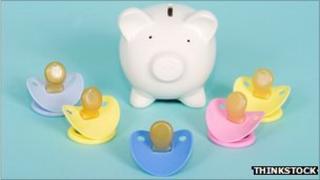 Nearly a quarter of UK parents questioned in a survey by the Daycare Trust and Save the Children say the cost of childcare has put them in debt.
The survey of 4,359 parents found 58% had cut spending on other essentials like clothing, heating and other bills.
Nearly two-thirds said they could not afford not to work, but struggled to pay for childcare.
Four out of 10 families surveyed said the cost of childcare was on a par with their mortgage or rent.
The study suggests the cost of childcare has the greatest consequences for the poorest families.
Of those who completed the Daycare Trust and Save the Children questionnaire, 250 had an annual household income of £12,000 or less.
A quarter of these low-income parents said they had given up work and a third had turned down work because of childcare costs.
More than half (58%) of these families said they were no better off working and paying for childcare. This compared to just 19% of those with household incomes of more than £30,000.
And 61% of low-income parents said they were struggling to pay for childcare, compared with 37% of parents on higher incomes.
The survey found 47% had cut back on after-school activities such as swimming, compared with 22% of those with higher incomes.
Research by the Daycare Trust earlier this year found that 25 hours of nursery care a week in England for a child under the age of two would cost, on average, more than £5,000 a year.
In Wales it was about £4,700, while in Scotland parents faced an average nursery bill of £5,178 a year.
Kate Groucutt, policy and research director at the Daycare Trust, said: "It is unacceptable that parents are being forced into debt in order to pay for childcare.
"Our research shows that childcare costs have risen every year for the last 10 years.
"This, combined with the recent cuts to the childcare element of working tax credits, means that the financial burden on parents is greater than ever.
"With a quarter of parents surveyed in debt because of childcare, it is clear that, under the current system, work does not pay for many families."
Justin Forsyth, chief executive of Save the Children, said: "People are being forced into debt, they're having to pay increased amounts of money for childcare at the same time and they're really, really struggling.
"It's much better not just for the economy, but for children themselves, that their parents are working, but they're not able to work unless they get proper support."
Universal credit
The charities are urging the government to increase the amount they plan to spend on childcare support under the new universal credit.
Under this system, a single payment will replace child tax credit and working tax credit, as well as income-related jobseeker's allowance, housing benefit, income support and income-related employment support allowance.
A spokesman for the Department for Work and Pensions said: "The cost of childcare is one of the most important factors for parents when considering work, and ministers have always said that under universal credit they will invest at least the same amount of money into childcare as in the current system.
"We are working closely with the Treasury and other interested groups to ensure we get this right."