Sums tables 'not needed for maths success'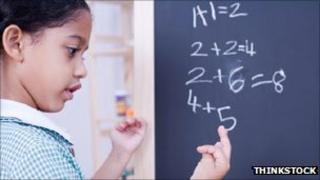 Primary school pupils can do well at maths even if they do not know simple sums by heart, research suggests.
A study of the way eight and nine-year-olds approach arithmetic found that many were above average at maths without knowing facts expected of them.
England's national curriculum says all children should know addition and subtraction facts between 0 and 20.
But the Institute of Education study suggests children succeed when they understand number concepts.
'Learning by rote'
Prof Richard Cowan, of London's Institute of Education, explained that traditionally children have been required to learn addition and subtraction of numbers between 0 and 20 as a set of facts.
In the 1920s and 1930s this was learnt by rote like a times table with children being told off for using their fingers.
And it is still specified as a requirement in England's national curriculum by the end of Year 3 and many schools will require children to learn these number facts by heart.
But his study, which followed 259 pupils aged eight to nine at a school in Windsor, Berkshire, found that none of the children knew all these so-called number facts, even in Year 4 but some of them were still doing very well.
He said he was surprised by how few facts some of the successful young mathematicians knew.
This was contrary to the traditional view which assumed that children should learn facts before they learn the principles around them, he said.
"Understanding that in the counting sequence six is more than five - that makes you know that five plus one is six and that six minus five is one," he added.
"Many people agree with the traditional view and think children should spend more time learning facts to become competent in arithmetic and progress in mathematics," he said.
"This study does not support that traditional view.
"We are not saying that fact knowledge is irrelevant, just that it develops more slowly than the national curriculum allows and that this does not jeopardise children's mathematics progress."
He added: "If parents want to help their children succeed at maths, then they should encourage them to use their knowledge of principles to solve problems, not get them to memorise the answers to problems like parrots."
He said the work, which is being presented at the British Educational Research Association, would be used to help understand if there were better ways of teaching children who are struggling with maths.