Increase in unemployed graduates, survey suggests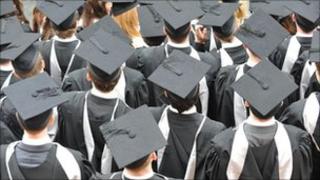 Almost 28% of UK graduates who left university in 2007 were still not in full-time work three and a half years later, figures have suggested.
The figure, based on 49,065 graduate responses, includes about 21 % who were working part-time or studying and 3.5% who gave their response as "other".
However, the Higher Education Statistics Agency (Hesa) said about 3.5% were considered to be unemployed.
That was an increase on the 2.6% in a 2008 survey of graduates from 2005.
Sally Hunt, general secretary of the University and College Union, said it was "worrying" that the number of unemployed graduates has risen.
The agency's figures are based on a snapshot survey taken on 29 November 2010 of 49,065 students who left university in 2007.
Of the 27.7% who said they were not in full-time work, 8.8% were working part-time or voluntarily, 5.3% were working and studying and 6.5% were just studying.
3.6% gave their response as "other", leaving 3.5% considered as unemployed.
Previous Hesa surveys suggested that 2.3% of those who graduated in 2003 were assumed to be unemployed three and a half years later, along with 2.6% of graduates who left higher education in 2005.
Gender gap
It also suggested that men were more likely to be on higher salaries than women.
While 14% of men in full-time paid work who graduated in 2007 were earning between £30,000 and £34,999 three and a half years later, the same was true for 9.3% of women.
In comparison, 29.4% of women were earning £20,000 to £24,999, against 15.6% of men.
The figures also suggested that a fifth (21.5%) of those questioned did not think that university had prepared them for their career, with 6.4% saying it had not prepared them at all.
'Worrying trend'
About one in 10 (11.1%) did not think their degree course was good value for money.
Overall, 84.2% said they were satisfied with their career to date.
Ms Hunt said: "While it is encouraging that the majority of the class of 2007 recognise the value and worth of their degree, it is worrying that the number of unemployed graduates has risen.
"The jobs market is now even tougher and new students entering a system with the highest public university fees in the world deserve better prospects.
The countries investing in graduates and high skills are the ones who will prosper in long run."
The vice-chancellors' body Universities UK said the recession had hit the jobs market hard, but graduates were well-equipped to weather the downturn.
"Graduates can trust that their degrees put them in a better position to succeed and make them more employable both in the short and the long term," said chief executive Nicola Dandridge.
But the National Union of Students said the government risked "losing a generation to low skills and high unemployment" by failing to support young people enough.
President Liam Burns called for more training and learning opportunities for young people, and more financial support for students.