One in four primary schools still has no male teachers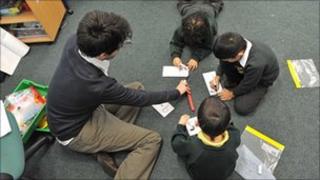 One in four primary schools in England still has no male registered teacher, statistics show.
General Teaching Council for England figures show a slight improvement on last year, with 27.2% schools with no male teachers, down from 27.8%.
There are just 48 male teachers in state nurseries.
Education Secretary Michael Gove said more male teachers were needed but they were put off by worries that teacher-pupil contact was a "legal minefield".
In total, women make up three-quarters of registered teachers - which includes all state school teachers and also teachers in the independent sector who choose to register with the GTCE.
Only 12% of primary school teachers are male, compared with 38% of secondary school teachers - with the proportions virtually unchanged since last year.
However, the proportion of men entering the profession has risen slightly, with men making up 25.6% of newly qualified teachers, up from 24% last year.
The overall pattern is similar in Wales, with figures published in August showing that about a quarter of all teachers are male, but the proportion of men entering the profession is rising slightly.
In Scotland only 8% of primary school teachers are male, while about 15% are male in Northern Ireland.
'Strength and sensitivity'
GTCE chief executive Alan Meyrick said the figures "suggest little change in the long term imbalance" between men and women in the profession.
But he said women remained under-represented in senior management roles.
According to Department for Education figures, 32% of men working in nursery and primary schools are in senior management, compared with 16% of women.
In a speech on Tuesday, Mr Gove said more male teachers were needed, especially in primary schools "to provide children who often lack male role models at home with male authority figures who can display both strength and sensitivity".
"One of the principal concerns that men considering teaching feel is the worry that they will fall foul of rules which make normal contact between adults and children a legal minefield," he said.
He said the government had clarified rules regarding contact between teachers and pupils.
Mr Gove said a "troops to teachers" programme, to be launched later this year, would "ensure that there are many more male role models entering teaching".
Former military personnel will be offered bursaries for teacher training and a fast-track route if they lack degree-level qualifications.
The GTCE figures also show the profession getting younger, with the number of teachers aged between 50 and 59 falling by 8% in the past five years.
Reliable ethnicity data for the whole profession is not available, but 9% of newly qualified teachers were from non-white backgrounds.
This is down slightly on last year, but up from 5% in 2002, the GTCE said.