EBacc 'influencing GCSE subject choices'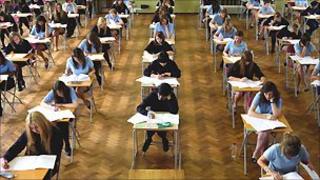 The English Baccalaureate is steering twice as many pupils in England's secondary schools towards core academic subjects, suggests a survey.
The "EBacc" measures how many pupils achieve a good GCSE in English, maths, two sciences, a language and humanity.
A government-commissioned survey shows that 33% of pupils will take EBacc subjects in 2012 and 47% in 2013 - compared with 22% last year.
Education Secretary Michael Gove welcomed this more "rounded education".
The introduction of the EBacc has been controversial - unpopular with head teachers' leaders and criticised by a cross-party committee of MPs.
League tables
There have been claims that it will undermine subjects outside the EBacc, such as religious education, and that individual pupils will have their choices narrowed as schools try to boost their performance in EBacc tables.
But the supporters and the critics of the EBacc are both likely to feel vindicated by the survey results.
The rising numbers of pupils taking EBacc subjects will be seen by the government as a successful intervention - encouraging more students to take traditional academic subjects.
Ministers have argued that pupils of all backgrounds should have access to these subjects that will be valued by universities and employers.
The survey shows that among pupils who will sit exams in 2013 - 47% will be taking an EBacc combination of subjects. These are the incoming Year 10 pupils who are about to begin their GCSE courses this autumn.
Among these pupils, 39% will take history in 2013, up from 31% in 2010. The percentage taking geography is set to rise from 26% to 33% and languages from 43% to 52%.
The government says that this marks an important improvement in pupils taking such key subjects.
'Rigorous subjects'
But opponents of the EBacc have warned that schools will manipulate their timetables and staffing to force an increase in pupils taking EBacc subjects, at the expense of other areas, such as music, art, ICT and vocational subjects.
Teachers' unions have warned of redundancies among teachers of non-EBacc subjects - and head teachers have criticised the "perverse incentives" that will follow from another set of performance measures.
The National Union of Teachers said the survey's findings were "no surprise" when the government was making the EBacc a measure of success for schools. But general secretary Christine Blower said it would "undermine" the breadth of what schools offered to pupils.
"The EBacc is a blunt instrument that takes a narrow view of education. Talking down the value of arts subjects for instance neglects the huge contribution made to the UK economy by theatre, design and music," she said.
Education Secretary Michael Gove said: "Subjects such as physics, chemistry, history, geography, French and German give students the opportunity to succeed in every field. The numbers studying a proper range of rigorous subjects has been in decline. Now, thanks to our English Bacc, that has changed.
"More young people are now following the courses which the best colleges and top employers value. The Government is committed to raising standards for all children and ensuring every child has a proper rounded education."
The survey, carried out by the National Centre for Social Research for the Department for Education, invited responses from 1,500 state schools - of which 692 schools took part.