GCSE results: Passes for six-year-old and Paralympian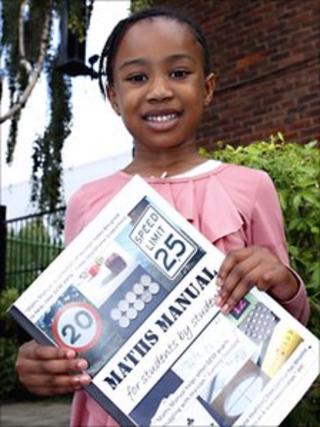 A six-year-old girl from east London is thought to have become the youngest pupil to successfully pass a GCSE in England.
Deborah Thorpe, of Chadwell Heath, sat a maths GCSE - usually meant for a 16-year-old - when she was five, achieving an E grade.
Her father, Charles, denied she was too young to sit such an exam and said he did not pressurise her into studying.
Last year seven-year-old Oscar Selby, from Surrey, got an A* in GCSE maths.
A spokesman for the Joint Council for Qualifications, which releases the exam results, said he could not recall a younger GCSE entrant in England.
But he pointed out the organisation did not hold records on candidates' ages.
Deborah, who attends St Bede's Catholic Primary School in Chadwell Heath, takes extra lessons on Saturdays.
She is also subject to a TV-watching ban after school between Monday to Thursday so she can focus on her studies.
Mr Thorpe added: "We don't stress her out, telling her 'You've got to do this.'
"We thought we might as well just give it a go. You see young people in the newspapers who have taken exams and you think, why not?"
He said maths was not her favourite subject, adding: "But when she says she wants to be a doctor, I tell her that she must be very good at science and maths."
Another young bright spark, nine-year-old Ibraheem bin-Suhayl, is celebrating an A in GCSE maths - despite saying it is his least favourite subject.
Pupil gets 15 A*s
The youngster from Marshland St James, near Wisbech, first took the exam aged seven when he got a B.
He had hoped for an A* this time around but said he was still pleased with the result.
Ibraheem said: "I don't like maths, I prefer biology and hopefully I will be able to take a GCSE in that next year."
He is not the first bright spark in his family. Last week his 12-year-old brother Yousuf got an A* in A-level maths. Both are taught at home by their father, Sohale Rahman.
A 16-year-old pupil from Guernsey gained an amazing 15 A*s, including GCSEs in five different languages.
Oliver Yerby, of Elizabeth College, was awarded the top grades in French, German, Greek, Latin, Latin literature and Russian, among other subjects.
Deaf girl's success
George Hartley, the school's principal, said he was very pleased.
Meanwhile, profoundly deaf teenager Tania Bonello, 16, from Colindale, north London, has gained seven GCSEs, moving a step closer to her dream of becoming a crime scene investigator.
Tania passed exams in Japanese, double science, British Sign Language level 2, English, performing arts, maths and religious education.
She has been supported by a special teacher who sits with her during lessons to make sure that she is understanding everything.
Tania, who goes to Hendon School, said: "I find it hard because I have to work harder and focus more than the other children just to be sure I get all the information and work done."
Jo Campion from National Deaf Children's Society said: "Although deafness is not a learning disability, government figures show that 65% of deaf children in England fail to get five grades A* to C at GCSE, including English and maths."
Twin triumphs
There was also success for double Paralympic swimming champion Ellie Simmonds, 16, who won the 100m and 400m freestyle in Beijing in 2008.
She gained four B grades, four Cs and one D, despite sitting four exams while at a training camp in Spain.
Her agent said she was "over the moon".
Meanwhile, in Birmingham, identical twins Alexandra and Rebecca Morton, 16, were celebrating matching results after they each notched up 11 A* passes.
They both passed English, English literature, French, Latin, maths, physics, chemistry, biology, art and design, and history.
Alexandra also achieved A* in Russian, while Rebecca gained an additional top grade in Greek.
They found out the results after returning from a five-week World Challenge Expedition to the Galapagos Islands.
And another pair of twins, Chris and Anthony Sefia, 16, from Bristol, scored 20 top grades between them in identical subjects.
Anthony achieved nine A*s and two Bs while Chris got seven A*s and four As.
"We're always competing, always want to see who is better at everything," Anthony said.
They are now planning matching A-levels, with both studying biology, maths, chemistry and physics - and considering careers in medicine.